2020 NHL Draft Rankings: Final Top 31
My "final" top 31 for the eventual 2020 NHL Draft.
2020 has been incredibly chaotic so far, and the NHL draft has not been exempted. The playing season came to an abrupt stop in March and the draft has been postponed until who knows when, but I'm going to have to turn my attention to the 2021 class at some point. I'm sticking to the same rough schedule that I would have in a normal year. The draft was originally scheduled for late June and my rankings are out early July (of course, I would have pushed to get them out before the big day in a typical season). Now that this is finally public, the 2021 NHL Draft is now my primary focus. I'll update this list before the eventual draft, but this is my "big" ranking for the year.
At well over 16,000 words in analysis plus several thousand more in the strength/weakness profiles, this is the most detailed edition of my rankings yet. For those unfamiliar with my work, my focus with all my draft work is depth of analysis. Whether it's rankings with in-depth profiles like these one or video breakdown articles of the draft's top prospects like the several I wrote this year, I value knowing as much as possible about the best prospects in the draft over surface analysis of hundreds of them. I was originally going to expand this edition to a top 62, but decided to focus on depth of information by limiting my focus to only the top 31. The actually rankings are more or less irrelevant— the information and analysis that come alongside are what matters. I did my best to explain my viewpoint in depth for every prospect in the first round-- if you're going to take anything from these rankings, try your best to see where I'm coming from with my ranks and how that challenges your current perception of each prospect. You might vehemently disagree, and that's fine. But if anything, I hope seeing a new perspective and process explained in detailed at least has some value.
Let's walk through what you'll find here for every player in the top 31. First of all, we have a player card intended to act as a quick and detailed introduction to the player's game. It lists their top trait, strengths, weaknesses, player comparables, and skill grades for six attributes. Below that, I've highlighted one point of each prospect's game that especially stands out to me in a positive manner. Depending on the prospect, I've thrown in an extra one or two as well. Afterwards, my projected outcome for the player. Obviously, this is a major factor in deciding the order of the ranking. And to finish it off, my detailed explanation on why I ranked each player what is. This varies by prospect, but it is generally made up of a few of the following: how the prospect fits into my process, what I like, what I don't, the level of risk that they carry, their developmental outlook, and more.
Regarding my process: impact reigns king. If a player excels at junior hockey, barring any glaring weaknesses, he projects to continue that trend at higher levels of his hockey career. Obviously, this isn't a blanket process— there are quite a few high-level junior players that didn't pan out as NHLers, and you'll notice that my rankings aren't an exact ranking of the best junior players as a reflection of that imperfection. But if we're talking process, my focus is probably more on draft year impact contextualized within their league, team, and unique situation than plenty of others in the draft sphere with more of an eye for "translatable skills". Continuing that focus on impact, this ranking is not one of the most skilled players in the draft, nor is it a list of those who will amass the highest point totals. I'm doing my best, with the information I have available, to project which players will be most impactful and most valuable to their NHL clubs. I think the two individual rankings that best reflect this approach are Anton Lundell and Braden Schneider. Lundell is my fifth ranked player. I fully recognize that he doesn't have the flashy dynamic ability or overall offensive ceiling of some of the players behind him, but his incredibly steady and possession-dominant game should make him an incredibly valuable contributor to an NHL organization even if he never racks up gaudy, top-line level point totals. On the other hand, I have Braden Schneider ranked 26th, lower than most in the mainstream. Do I love his stellar defensive ability and surprisingly adept puckmoving for a defensive-oriented player? Absolutely. But can a player with his defence-first, low-event style effectively play a driving role for a team in today's NHL? I don't think so, and a complementary type player— even if they fill a top-four role— can only be so valuable. I'd be happy to talk scouting philosophy with anybody interested in things like this.
For those who don't want to read the 16,000+ words of information here, I won't waste your time. My list is right below, but I hope that you'll read further. And regardless of whether you left after the image below, read part of the piece (it's a lot, I know), or stuck to every word (I commend any one of you who did), I'd love to hear your thoughts on Twitter or in the comments here. If you enjoy this, please consider subscribing to this newsletter to receive more content throughout the summer and eventual 2021 season-- primarily shift-by-shift videos of draft eligible prospects like I have posted so far (if you have other content ideas, let me know).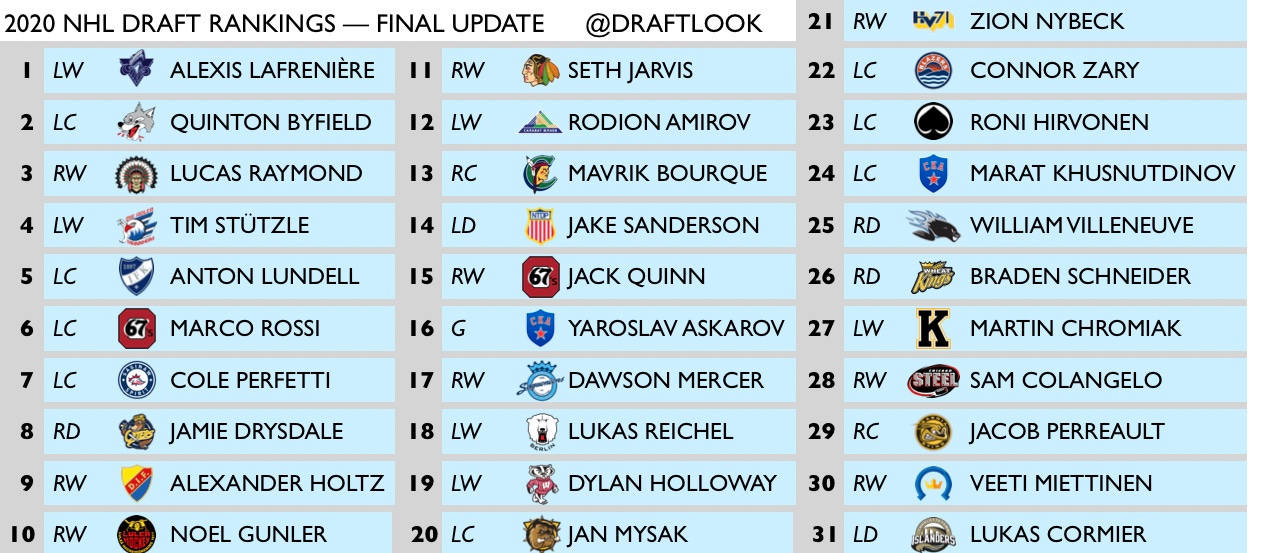 Tier One --This tier has been Alexis Lafrenière's all year long. After reviewing their games and a lot of tape, it now holds two players. Quinton Byfield's combination of size and quickness is terrifying, and he did incredible things on a Sudbury squad that lacked offensive firepower. He deserves to be in this top group. The recent criticism of his game is unfounded and I'm confident in Byfield's ability to become a tremendous NHL player.
1. Alexis Lafrenière, LW, Rimouski (QMJHL)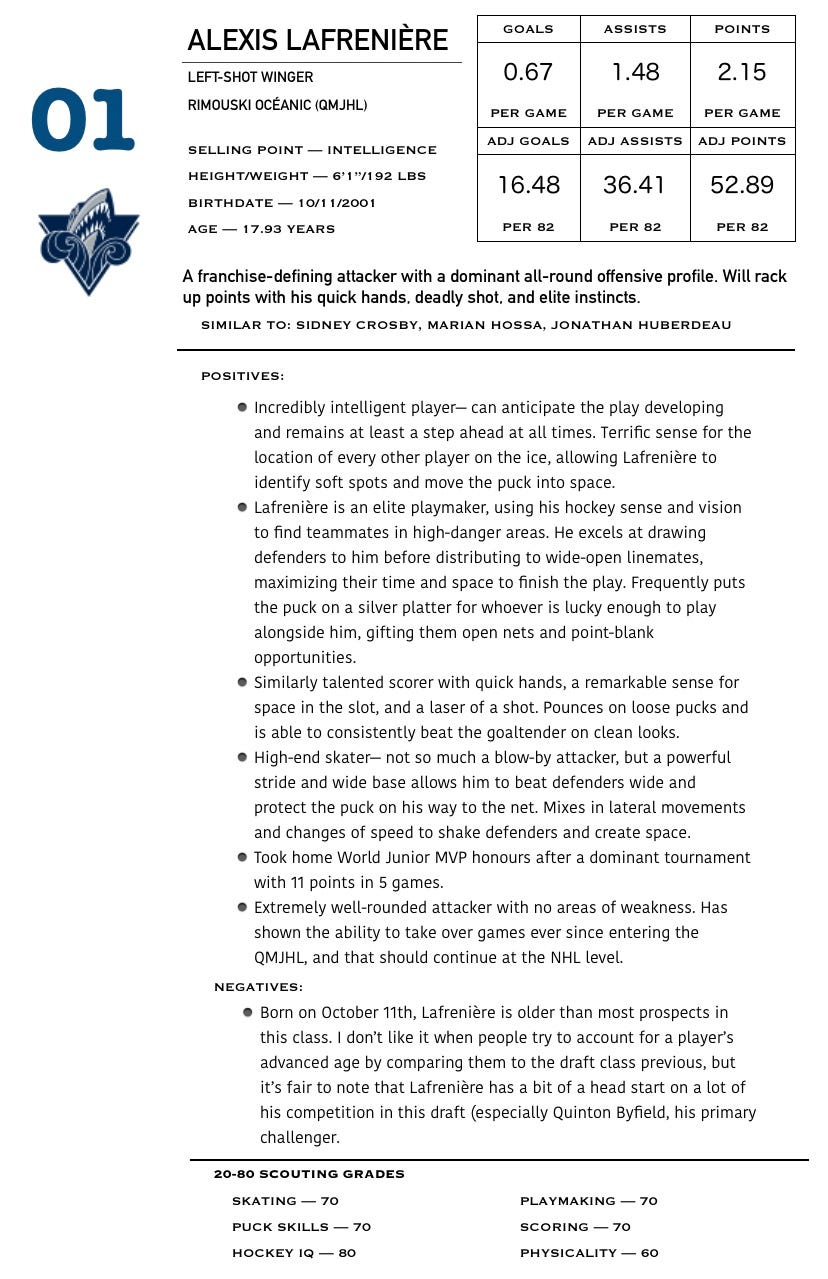 One Thing I Love: I can always count on Lafrenière to blow me away with the degree to which his intelligence and awareness on the puck compliments the host of offensive tools in his arsenal. Elite-level hands can be a terrific asset on their own, but an innate sense for soft ice like Lafrenière possesses really multiplies their effectiveness.
Key in on how Lafrenière immediately recognizes that two American penalty-killers overcommit to Joe Veleno in the corner when he receives the puck on the wall, and is able to explode into the void left by this mistake and dish a perfect pass to Barrett Hayton for one of the most important goals of the 2020 WJC. He has the brains to identify the opportunity, and the skill to dash into the middle and put a pass right into Hayton's wheelhouse.
Projection: Franchise-defining winger capable of contributing 100+ points per season.
Methodology: This has been the easiest decision of my rankings all year long, even when some other analysts were opting for Byfield instead earlier in the year. Lafrenière racked up 112 points over just 52 games in the Quebec circuit: total and absolute dominance of one of the world's best junior leagues. He owns the 5th highest point-per-game rate of any CHL forward since 1996, and the second-highest rate of even-strength primary points per game since 2013.
He's the best prospect out of the CHL since Connor McDavid, and could be the best first overall pick in the NHL draft since the Oilers star as well. In terms of calibre of prospect, I'd say he's on a similar to level to Auston Matthews. His elite-level skill is blatantly obvious every time he touches the puck: his hands and intelligence are his defining characteristics, but his vision, passing touch, finishing ability, and skating all score extremely well too. He's an incredibly well-rounded prospect-- I don't see a single visible weakness in his game; the real challenge is finding an attribute of his that isn't significantly above average.
2. Quinton Byfield, LHC, Sudbury (OHL)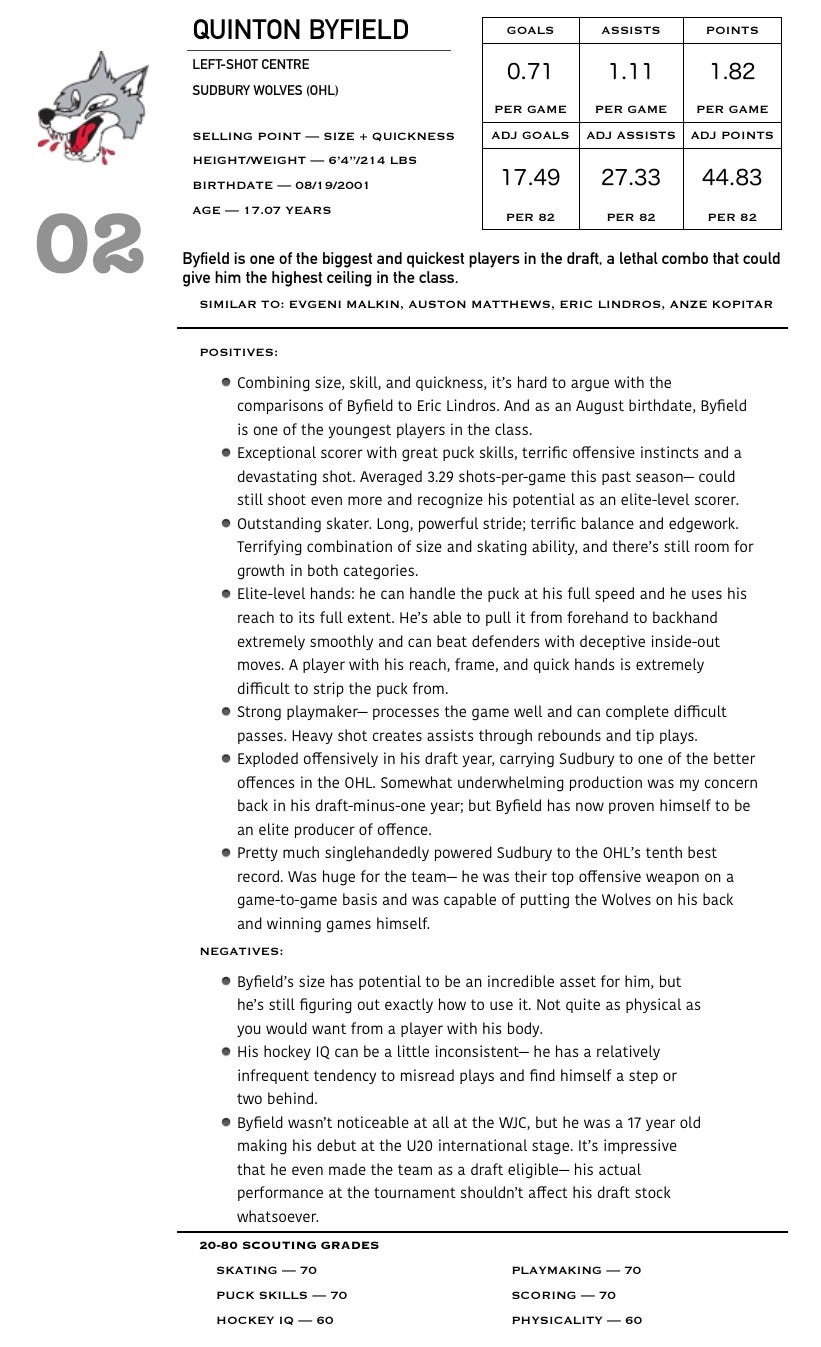 One Thing I Love: is how deft and quick Byfield is for his frame. Even at 6'4, Byfield has to be one of the most explosive players in the draft.
The change of direction, first steps to create separation, and then the snipe would be exceptional for a 5'10 burner; seeing it from a physical monster like Byfield is rare and exceptional. Here's another clip:
He spins off the check and takes the puck right to the net. He's agile, explosive, and has both the physical capacity and fearless attitude to go right to the net.
Projection: A 90 point top-line centre with potential to top 40 goals. Think Evgeni Malkin.
Methodology: If you were to create the perfect hockey player, I'd imagine the end result wouldn't be far off from the mold of Quinton Byfield. He's big, fast, and capable of all-around offensive dominance. He has impressive vision, soft hands, and a laser of a shot. He tore up the Ontario Hockey League on a Sudbury team without a lot of offensive weapons besides Byfield, factoring in on 32% of his team's goals even while missing 18 games. Adjusting for games played, that ratio jumps to 44%.
Byfield is the exact type of player that every NHL team covets. He's 6'4", projects to be a top-line scorer, and has a terrific scoring touch. I'd say his general archetype is more attractive than Lafreniere's, but the QMJHL winger is the more impactful forward by a visible margin. Impact and player value are what ultimately drive team success. Lafreniere managed 18% more points on a per game basis, and was involved in ~10% more of his team's goals (adjusted for games played once again). The gap between him and Byfield is quite large, and has been for me all year long. But I'd say Byfield is quite comfortable in the #2 spot; neither Lucas Raymond or Anton Lundell are particularly close to capturing that position.
I decided to bump Byfield into the top tier because of the sheer upside that he offers. I expect that he would have done incredible things on a team like Rimouski with more surrounding firepower than Sudbury had and he could be an absolutely ridiculous talent if everything breaks right. The difference between a draft's top prospect and the rest of the pack often turns out to be less than it appeared on draft day: Andrei Svechnikov just had a considerably better year than 2018 consensus top pick Rasmus Dahlin, Elias Pettersson has established himself as the 2017 draft's best player so far, Leon Draisaitl has been the best player out of the 2014 class, ecetera.
People seem to have soured on Byfield in the second half of the year. I think the common concerns about his game are largely inconsequential in the big picture. Let's walk through them:
Lots of people like to bring up Byfield's World Junior Championship, where he had just one point in seven games. Byfield was largely invisible, sure, but it's a seven game sample. It's not easy to make a big impact as a 17 year old at the WJC (Alexis Lafreniere struggled last year too). What matters more: seven games of Byfield struggling against top U20 competition in a limited role, or 45 games of Byfield tearing the Ontario Hockey league to shreds? It's definitely the latter for me, and it should be for you as well. It's not unusual for top 17 year old players to struggle at the WJC either: Evgeni Kutznetsov and Jonathan Toews had two points in six games in their respective draft years, and Sebastian Aho went pointless back in 2014-15. All three reached top 1C levels nonetheless, similar to what I expect from Byfield.

There's a weird narrative revolving that Byfield apparently struggled against top-level OHL teams this year. This is factually and tangibly incorrect: Byfield had 12 points in 7 games (1.71 points/game) against the five top teams in the OHL standings, and 9 points in 7 games (1.29 points/game) against the five teams that conceded the fewest goals in the league. He went pointless against the Ottawa 67's the one time he played them-- that's the only possible source I can imagine that this thought started. It's completely untrue.
The number of people vouching for Byfield over Lafreniere has diminished greatly ever since the WJC, but it's still an opinion that some hold. I can understand their argument: Byfield's combination of raw size, quickness, and puck skills give him an extremely ceiling that may be higher than Lafreniere's. Everyone agrees that Lafreniere is the better player right now, but they're willing to bet on Byfield growing into the more impactful player over time. This is fair-- the cap of potential outcomes for Byfield is extremely high, and very well could end up being above Lafreniere's. However, ranking these players is a balancing act of ceiling, floor, and risk factors. I think Lafreniere's most likely outcome exceeds Byfield's, so the Quebec winger is ranked above.
Tier Two -- This tier is made up of the players that project as high-end top-line forwards, but don't look like clear-cut stars. 
3. Lucas Raymond, RW, Frolunda (SHL)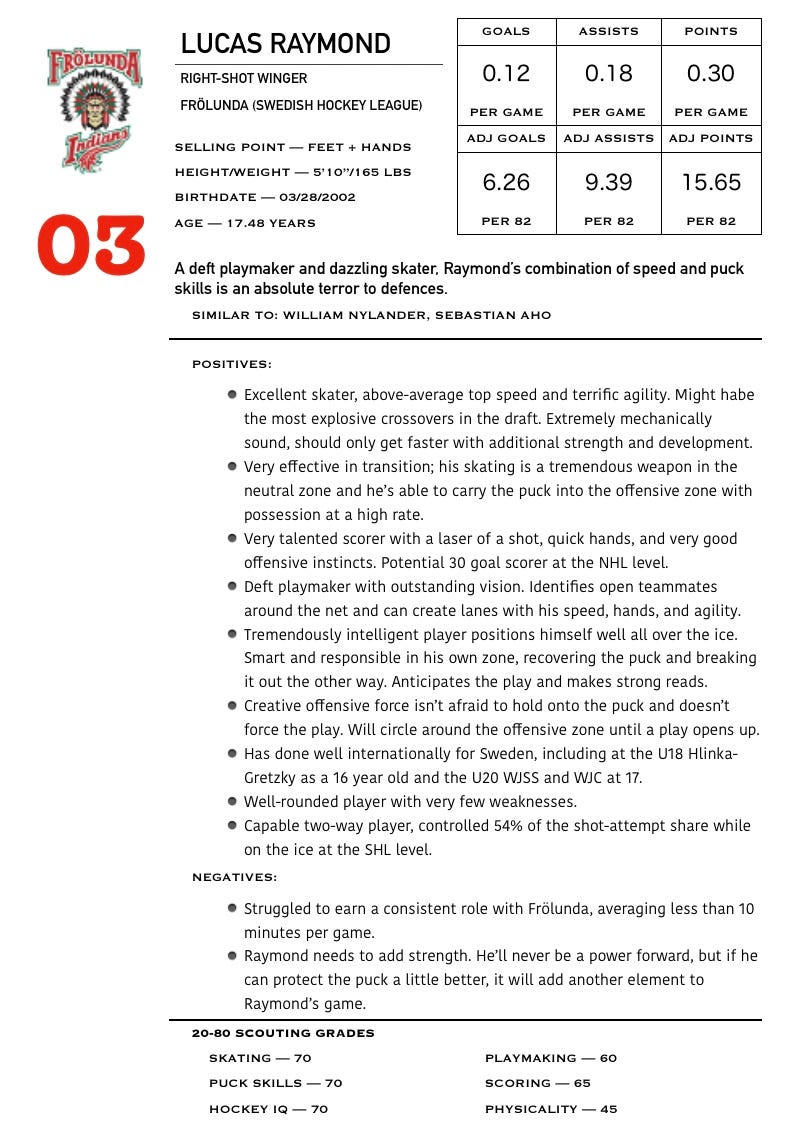 One Thing I Love: is how fast Raymond moves with the puck. He's quite possibly the best skater in the draft, and he has the hands to control the puck at top speed. It's plays like the following three clips that make him such an effective offensive weapon:
He can cruise in from the blueline, step around a defender with a nifty move, and accelerate away for a point-blank opportunity. It's an incredibly dangerous play to have in your arsenal, but he's also able to use his speed off the rush to push defenders back and open up space to create as a distributor or shooter.
Projection: An 80-90 point winger with significant transitional value and potentially significant two-way contributions. A William Nylander type.
Methodology: I expect Tim Stutzle to ultimately go third overall, but I still feel that Raymond is the superior prospect. Both are actually fairly similar in terms of skillset: highly dynamic offensive players with great wheels, excellent hands, and terrific vision. Raymond is the better scorer; Stutzle is the better playmaker. Raymond got far less opportunity in the SHL than Stutzle did in the DEL, but his numbers were actually more impressive when we adjust for usage and league quality (according to my system at least). Raymond has 30 goal, 80 point upside and projects to be among the league's best forwards in transition. He's the type of player that can anchor a team's top line for many years, using his speed and offensive tools to take over games. He should contribute positive value in all facets of the game: as a scorer, a passer, in transition, and in his own zone. I like William Nylander as a general comparable: a really fast Swede with a well-rounded offensive game, a really refined scoring touch, and a real knack for moving the puck between the bluelines. I've heard Mitch Marner as a similar player as well, which really speaks to the dynamic element of Raymond's game. People are forgetting how good of a player he is since he didn't get a lot of opportunity for Frolunda, but Raymond should be an extremely high value NHLer.
Tim Stutzle is an excellent player, but he doesn't have the same well-roundness in his profile that Raymond exhibits. Raymond is an excellent scorer with a dangerous shot and ability to consistently threaten the slot, whereas Stutzle is considerably more playmaking oriented and prefers to distribute from the outer areas of the ice. Lucas Raymond just has more consistent dimensions to his game-- he can orchestrate passing plays from the outside on a level not far off from Stutzle, but he's also more capable of penetrating the home plate area and putting his hands and shot to use as a finisher. He handles himself better under defensive pressure and is less reliant on the powerplay to make an impact. This versatility and multidimensionality to his game should make him a more difficult attacker to defend and more valuable NHL forward.
4. Tim Stutzle, RW, Adler Mannheim (DEL)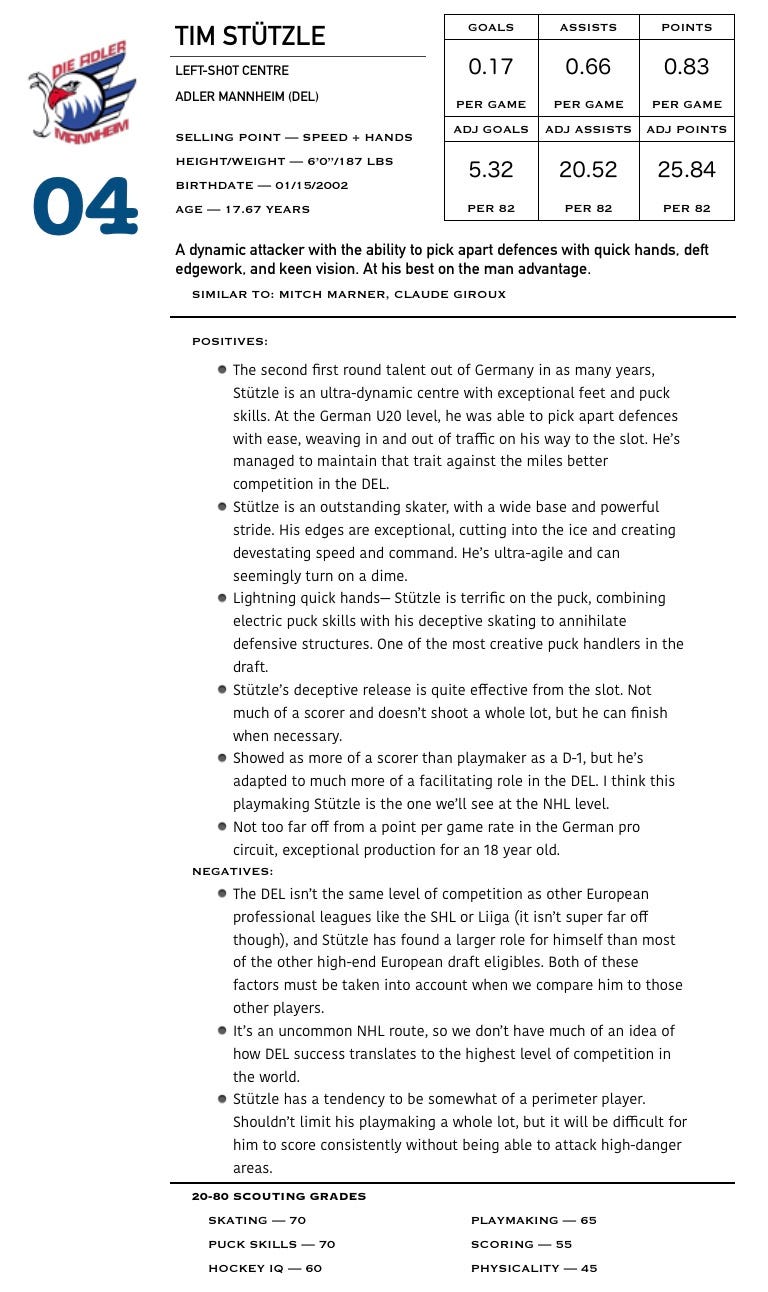 One Thing I Love: Similar to Raymond, Stutzle offers a tantalizing combination of skating and puck skills. He is incredibly agile, able to stop and change directions on a dime, and one of the most creative puck carriers in the draft. He moves exceptionally well laterally and presents an incredibly complicated package for defenders to handle. The agility, elusiveness, and hands here are incredible:
There's plenty to be excited about just from that clip alone.
Projection: An ~80 point winger, similar to Raymond. Less impactful than the Swede in transition, but more valuable on the man advantage.
Methodology: Stutzle has shown elite potential at a variety of levels-- he destroyed Germany's U20 league last year, put up historical numbers for a U18 player in the DEL, and looked exceptional against mostly older competition at the World Juniors. He's always had elite talent-- back in September, I wrote "In terms of pure skill and dynamism, Stutzle is a clear top 10 prospect in this draft-- maybe even top 5." Many will point to the WJC as where he thrust himself into the top 5, but his DEL season was a far more important arrow. Entering the year, Stutzle hadn't played a single game against legitimately difficult competition-- the DNL, Germany's junior circuit, has rarely churned out NHL players and even Germany's international team played in the second division at tournaments. By fitting so well into the DEL this year, he put any quality of competition concerns to rest. He and Raymond are quite similar offensively-- extremely dynamic, highly agile, well-rounded attackers, but Stutzle played in a lesser league, has a more powerplay-centric offensive profile, and isn't as effective in transition or as a two-way player.
There are some legitimate concerns about Stutzle's game that seem to be flying under the radar somewhat. Players like Stutzle that catch the public eye a little later than most and rise throughout the year often manage to dodge the scutiny that comes as people "overanalyze" players-- Stutzle hasn't had people making up narratives about him struggling against top competition like we saw with Quinton Byfield, for example. The focus has always been his positive traits (as it should be), but there are a few concerns worth highlighting.
First of all, it's important to understand that the DEL is far from the level of competition that is observed in circuits like the Swedish Hockey League, where Lucas Raymond played. The level of competition that prospects like Raymond, Alexander Holtz, and Noel Gunler were facing every game is similar to what Stutzle had to deal with only when he played the DEL's absolute best squads. The worst SHL teams would likely be among the DEL's best teams. Second-- Stutzle generally prefers to facilitate from the perimeter of the offensive zone, which works as a playmaker but inhibits his ability to score. A player with an unspectacular shot like Stutzle isn't going to score consistently from areas outside of the slot. Without the ability to get to those areas on a consistent basis, Stutzle won't be a consistent dual-threat attacker.
Tier Three-- This one is filled with players who have top-line upside, but could also turn out to be middle-six contributors (or in Drysdale's case, second-pair).
5. Anton Lundell, LHC, HIFK (Liiga)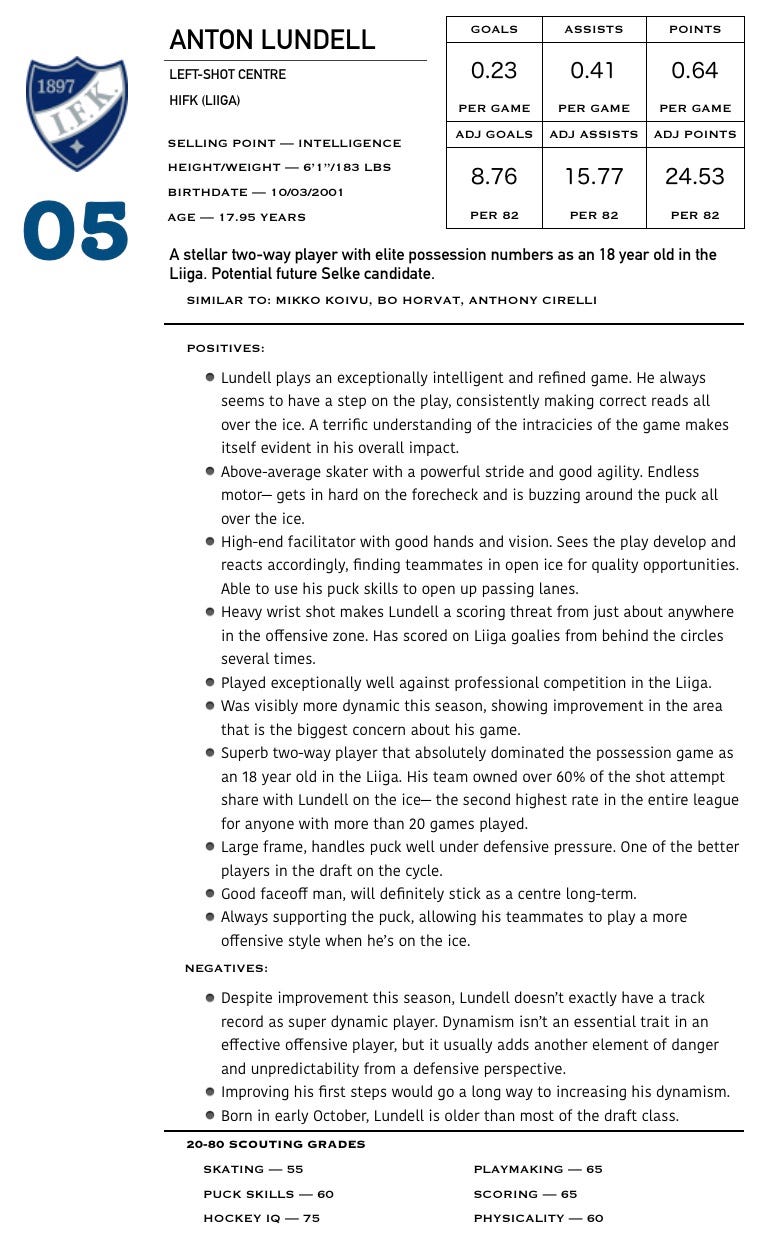 One Thing I Love: Lundell is the most polished two-way player in the draft. At 18 years old, he was second in the entire Liiga in shot-attempt share, controlling 61.9% of the shots. And he's no one-trick pony either: he sacrifices nothing offensively with his stellar defensive play, still producing offence at a rate that is one of the best in the draft. He had 28 points in 44 games in less than 16 minutes per game-- close to 2.5 points per sixty minutes. For an 18 year old in the fourth or fifth best league in the world, that is excellent.
Another Thing I Love: He can absolutely rip the puck.
One Final Thing I Love: His vision is outstanding too. Look at this pass.
Projection: A 60-70 point top-line centre with stellar two-way play. Possible perennial Selke candidate.
Methodology: Lundell is the total package; it absolutely baffles me how he's not a consensus top 5 pick. He's the only forward in the draft that I'm legitimately confident will be a significant positive-value player in his own zone-- no other player is in a high-calibre league posting these kinds of exceptional two-way results. He might be the second most intelligent player in the draft after only Lafreniere-- few players that are able to balance high-end value on both ends of the ice do it without elite smarts. He's a refined, all-around attacker with a laser of a shot and superb vision. His skating isn't high-end and it holds him back from being a real consistent threat off the rush, but he's one of the top offensive players in the class at producing offence when set up in the offensive zone. Slap some better wheels on him and he could very well be third on this list (he's already not far off). If he develops into a more dynamic attacker, he could be a superstar. I absolutely love this player, and it pains me to see so many people sleeping on him.
The lack of dynamism as an attacker is the only thing holding him back from potentially overtaking both Raymond and Stutzle in my eyes. Additional speed would really improve his versatility as an attacker: his offence off the rush is essentially limited to pushing defenders back and ripping shots, which is valuable, but the ability to take creative routes, open lanes, and pick apart rush defences is an important tool that both Raymond and Stutzle have. To put it simply: Raymond and Stutzle are among the best in the draft at producing both at the rush and while set up in the offensive zone, whereas Lundell is one of the top at converting prolonged offensive possessions into chances and goals but is closer to average producing off the rush.
Lundell's intelligence and ability to handle the puck and make positive plays even with a defender applying pressure allow him to migitate his unspectacular mobility. He was an effective offensive player against high-level professional competition not only this season, but last year as a 17 year old as well. If he continues to improve his skating, I don't foresee Lundell struggling to create offence as an NHLer. And even if the Finn isn't as effective against NHL competition, his constant puck support and intelligent defensive game allow his teammates to take more offensive liabilities knowing that Lundell is there to back them up if things go wrong, ultimately leading to increased team offence even when Lundell isn't directly involved in the play.
6. Marco Rossi, LHC, Ottawa (OHL)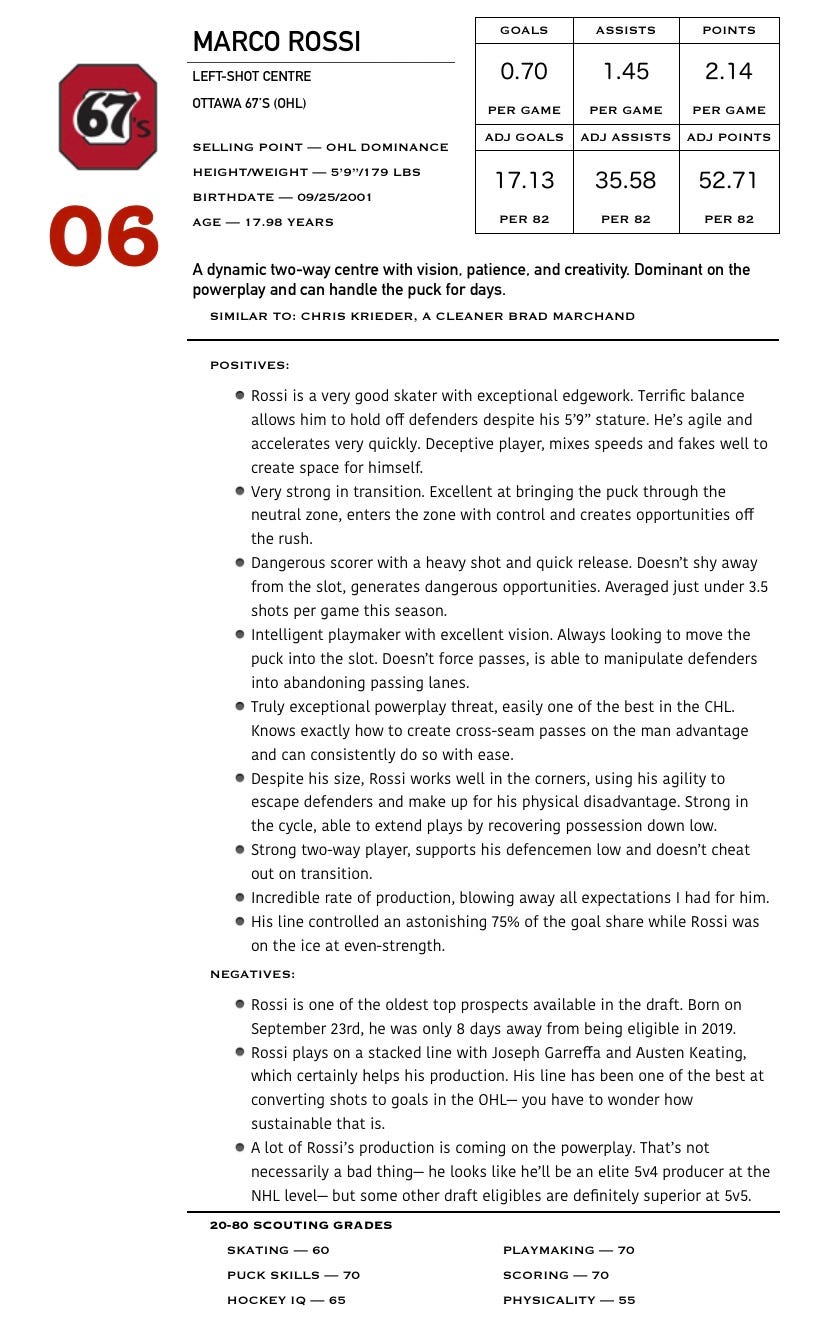 One Thing I Love: Rossi absolutely destroyed the OHL this season. Out of a sample of all OHL draft year forwards dating back to 2008, only Connor McDavid had more total and primary points per game than Rossi did this year. One could argue that he has an advantage because he was only eight days away from being draft eligible in 2019 (fair enough, he did), but guess what-- he had more points per game than any draft-plus-one player in that sample too, and only Alex DeBrincat had a higher rate of primary points. There is a statistical argument that he's the best non-McDavid forward out of the OHL in the last 12 years. Obviously, he's just 6th on this list so I don't expect him to reach anywhere near those heights, but it puts how unbelievable his season was into perspective.
Projection: A 70-80 point forward with extreme powerplay value.
Methodology: I could truly go on and on about how incredible Rossi's season was. But all this praise begs the question-- if he was so dominant, why can't he even crack the top 5 here? It's about context. Rossi was in about as ideal of a situation to dominate the OHL as a draft eligible as you'll find-- he's very old for the draft class first of all, but he also played a huge role as the top line centre on a stacked team with terrific linemates. Put him in Quinton Byfield's situation on a Sudbury roster with little offensive help, and he's not going to dominate to that degree. He was also fairly reliant on the powerplay for a good portion of his production. The man advantage is a big strength of his and a game state where he'll provide a lot of value, but both Alexis Lafreniere and Quinton Byfield actually outpaced him in even-strength primary points per game.
He's still in the same tier as Raymond, Stutzle and Lundell. I expect all three of those players will be more impactful at even-strength, but Rossi could legitimately be one of the NHL's best powerplay contributors and there's a fair amount of value to be had there. He's a super dynamic modern offensive game that can handle the puck for days, not unlike Mitch Marner or Mat Barzal. He might struggle to establish himself as a centre at the NHL level just because a lot of coaches don't like his kind of size (or lack of it) down the middle, but he's an incredibly skilled player with great wheels, puck skills, and creativity. It seems obvious that he's on his way to being a high-calibre offensive threat as an NHLer. His level of skill is exceptional-- he's a strong skater, balanced puckhandler that can navigate pressure, a super intelligent player with great sense for his teammates, and plenty of finishing talent. I think there's more uncertainty around his game though than people generally acknowledge-- he feasted on weaker OHL teams and fell off a little against better competition, had plenty of help from his teammates with Ottawa, and was more reliant on the man advantage than most prospects of his calibre. Are these warning signs that he might struggle against NHL competition, particularly at even strength? Potentially. One thing is certain though: Rossi has big-time skill and skill typically tends to win out, but those negative points are important to take note of. I have him on the same tier as the three forwards above because I believe his ceiling could be similar to that of Raymond and Stutzle (offensive ceiling is probably a little lower, but his defensive upside is greater than those two), but I believe he's less likely to get there. Even if he doesn't fully pan out, a middle-six centre with a strong two-way game and ability to play on a top powerplay unit will still be a valuable asset.
7. Cole Perfetti, LHC/LW, Saginaw (OHL)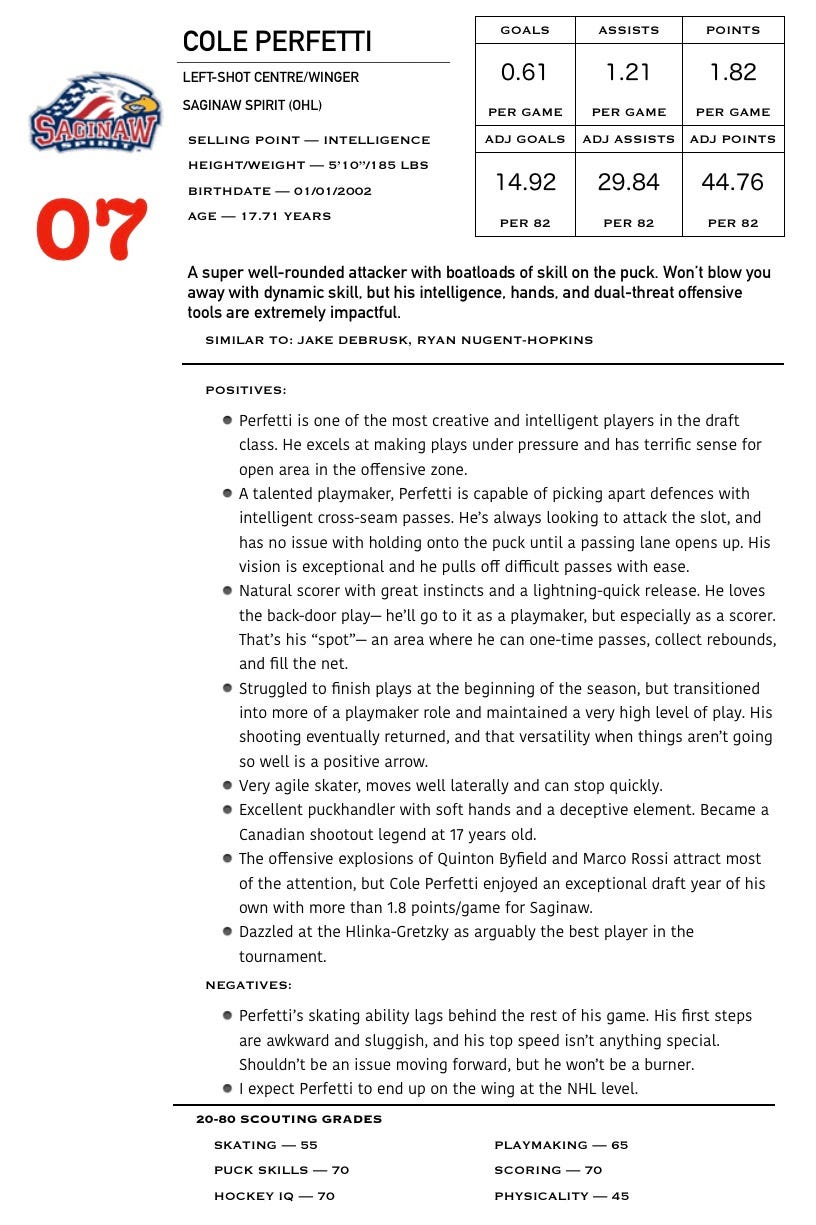 One Thing I Love: Perfetti was ridiculously effective for Saginaw, tallying 101 points in 61 games. This is largely in part due to his newfound versatility as an offensive threat: he continued his excellence as a scorer, potting 37 goals while averaging 4 shots a game, but also rose his playmaking to a similarly outstanding level. To really put the extent of that improvement as a facilitator into perspective: Perfetti finished with the exact same goal total as last season (in two fewer games), but still managed to register 37 more points than in 2018-19. To put it another way: his per-game scoring rate rose just 3% from last year to now, whereas his assist numbers jumped 107%. That is monumental growth as a playmaker.
Another Thing I Love: Perfetti is a creative attacker that can string together lengthy stretches of offensive possession. He can handle the puck, distribute when necessary, and has the hands and finishing ability to be a big-time scorer-- what's not to like?
Projection: A 65-75 point winger and potential 30 goal scorer.
Methodology: I think this draft is so stacked at the top-- especially in OHL prospects-- that we don't fully appreciate how unreal Perfetti was this year. He put up points on a level similar to that of Taylor Hall, John Tavares, and Steven Stamkos in their respective draft seasons-- a trio of first overall draft picks and NHL stars. That's incredible, and he's only the 4th best CHL forward in the draft. Perfetti really does present the full offensive package-- he's a super intelligent dual-threat forward with exceptional hands (remember his Hlinka performance against Sweden?), a laser of a shot, and terrific vision. He's not the greatest skater and he can be fairly easy to knock off the puck, but neither issues have stopped him from dominating the Ontario Hockey League as a 17/18 year old and shouldn't be overly difficult to coach out (the latter should improve massively with additional strength). He was on an excellent team like Rossi, and reaped the benefits, but he was Saginaw's leading offensive player by a long shot. Could be a top 3 player in a regular draft class.
I really debated slotting Perfetti in above Rossi. He has a similarly well-rounded offensive profile, didn't have quite as much support as Rossi did in Ottawa, and was better against top competition in the OHL. But at the end of the day, Rossi outproduced Perfetti across the board while presenting a more effective two-way game. I have him on the same tier though-- the same one with Raymond, Stutzle, and Lundell as well. With Perfetti's scoring touch, puck skills, intelligence, and vision, his offensive impact could turn out similar to that group. He isn't a great skater but his intelligence allows him to stay a step ahead of the play, similar to Lundell. Aside from his skating, every other offensive tool of Perfetti's is distinctly excellent. He was overshadowed by the stellar OHL class this year, but Perfetti would be a very high draft pick in a regular draft and should be esteemed as such. Even without an explosive skating stride, there's tons of value in a player with Perfetti's combination of scoring touch and passing vision. He's the type of player that can singlehanded dismantle a defence: give him space and he'll slash into the slot and bury a quick shot; fail to take away his passing options and he'll rip a cross-ice pass for an easy finish.
8. Jamie Drysdale, RHD, Erie (OHL)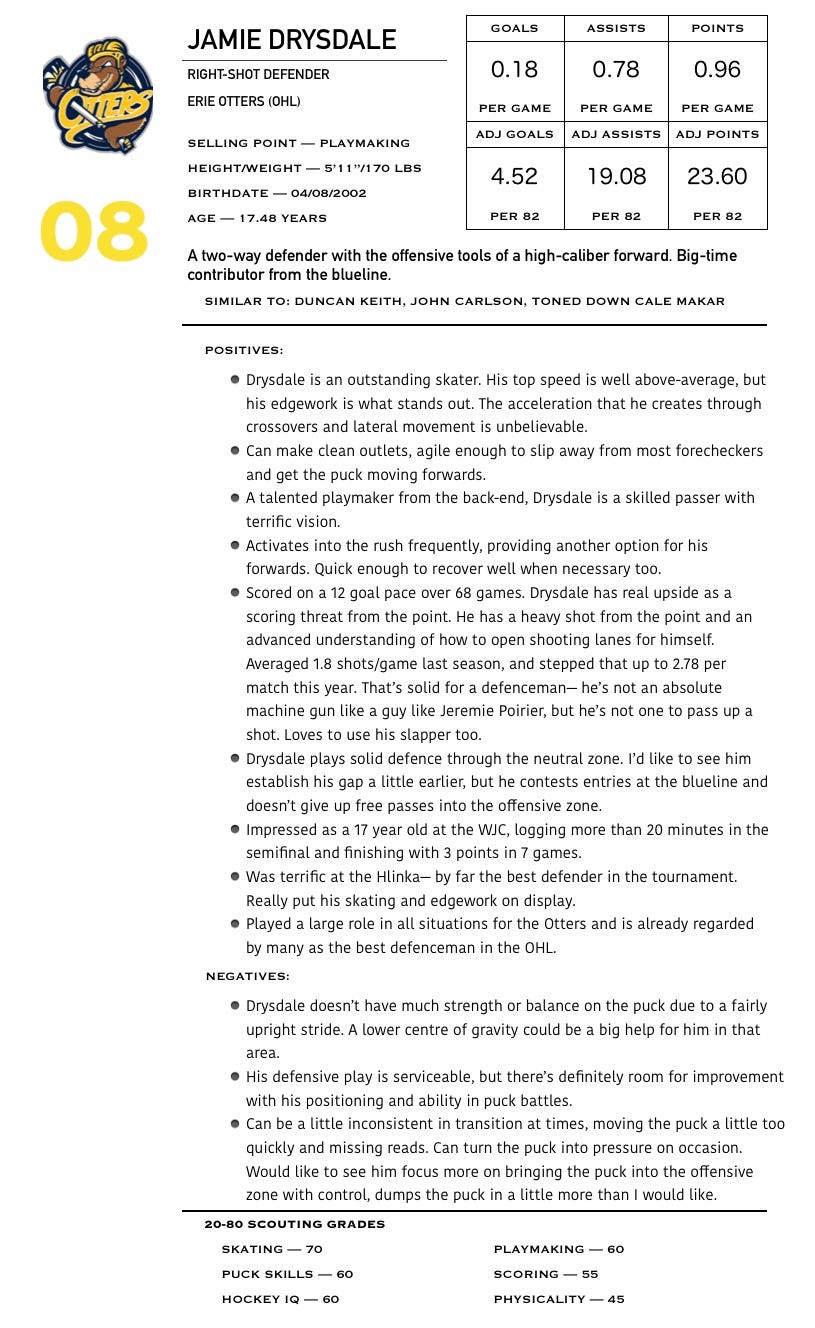 One Thing I Love: Drysdale is agile and deceptive to step around defenders on the breakout. It's an incredibly valuable space-creating tool, and allows him to advance the puck instead of having to defer to his partner and stall the breakout. Here's an example-- Drysdale gets in front of the forechecker and lays a pass into space for his teammate: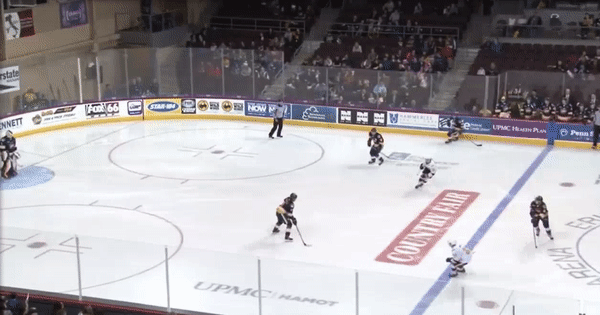 The one thing I would like to see is Drysdale improve his consistency with this trait. He's really good at shaking defenders off in that area between the top of the circle and blueline but can sometimes struggle to handle forechecking pressure deeper in the corners, turning the puck over. He definitely has the mobility and puck skills to pull it off, it's just a matter of doing it on a more frequent and consistent basis.
Another Thing I Love: Drysdale loves to jump into the rush and can pitch in to the offence in that manner. I love how he recognizes the opportunity, uses his feet to get up into the play, provides a passing option and then rips a hard shot off the goaltender's pads for an easy rebound finish here.
Projection: 40 point defender and powerplay quarterback. High-value offensive player with average to slightly below defence.
Methodology: I'm a little lower on Drysdale than many-- I know a multitude of analysts who see him as a worthy candidate for third overall and his consolidated ranking via Colin Cudmore is 5th overall. There's plenty to like about his game-- he's a super gifted skater with terrific edgework in particular, he has great vision all over the ice, he handles the puck better than some high-end forwards, he has a dangerous shot, and he can quarterback a powerplay. All of that offensive skill is going to make him a big-time offensive contributor at the NHL level: as I said just above, I'm expecting around 40 points a year from the blueline. He was very impactful for Erie, boosting their goal share by ten percent while on the ice and earning recognition from many analysts as the OHL's top defenceman. He got plenty of attention in the OHL Coach's Poll, recognized as the second smartest player, second best skater, and second best offensive defenceman in the Western Conference.
Drysdale doesn't wow me as much as I'd expect for a guy that some people have tabbed as an easy top five pick in a draft as deep as this one. I think it's his transitional play-- I like to use the 2018 defensive class, which was absolutely stacked with dynamic defenders, as a benchmark for ability in transition. Watching Drysdale, I'm not nearly as enamoured with his ability to make consistent plays to avoid forecheckers and exit the zone with control as I was with players like Quinn Hughes and Adam Boqvist two years ago. Those two players can get the puck in just about any position regardless of pressure, leave a forechecker in the dust, and exit the zone in a clean manner. Drysdale isn't so seamless under pressure, at times struggling to effectively evade the opposing forwards and find enough space to make a play. It's an underwhelming year on the blueline; Drysdale is far and away the best defenceman in the class, but I'm not sure he stacks up super well to top defensive prospects of the past. Is he better than Bowen Byram, the fourth overall pick in last year's class? I don't think so-- Byram was a more all-around dominant player with better numbers in a league that's tougher to score in. And I can say quite comfortably that I prefer three defenders from the 2018 draft-- Rasmus Dahlin (obviously), Quinn Hughes, and Adam Boqvist-- looking only at their bodies of work before the draft. My thought process is that if he isn't as good of a player as those prospects (which I believe), then he shouldn't be ranked as high as I had those players (all four were in my top 5) when you consider that this class has more top-end forward talent than 2019 and 2018 did. I don't think he's the answer for a team looking for a true number one defenceman; if you want a right-shot offensive guy to be your second or third best 5v5 blueliner and a top unit powerplay quarterback, then sure, but I question his ability to be a #1.
9. Alexander Holtz, RW, Djugardens (SHL)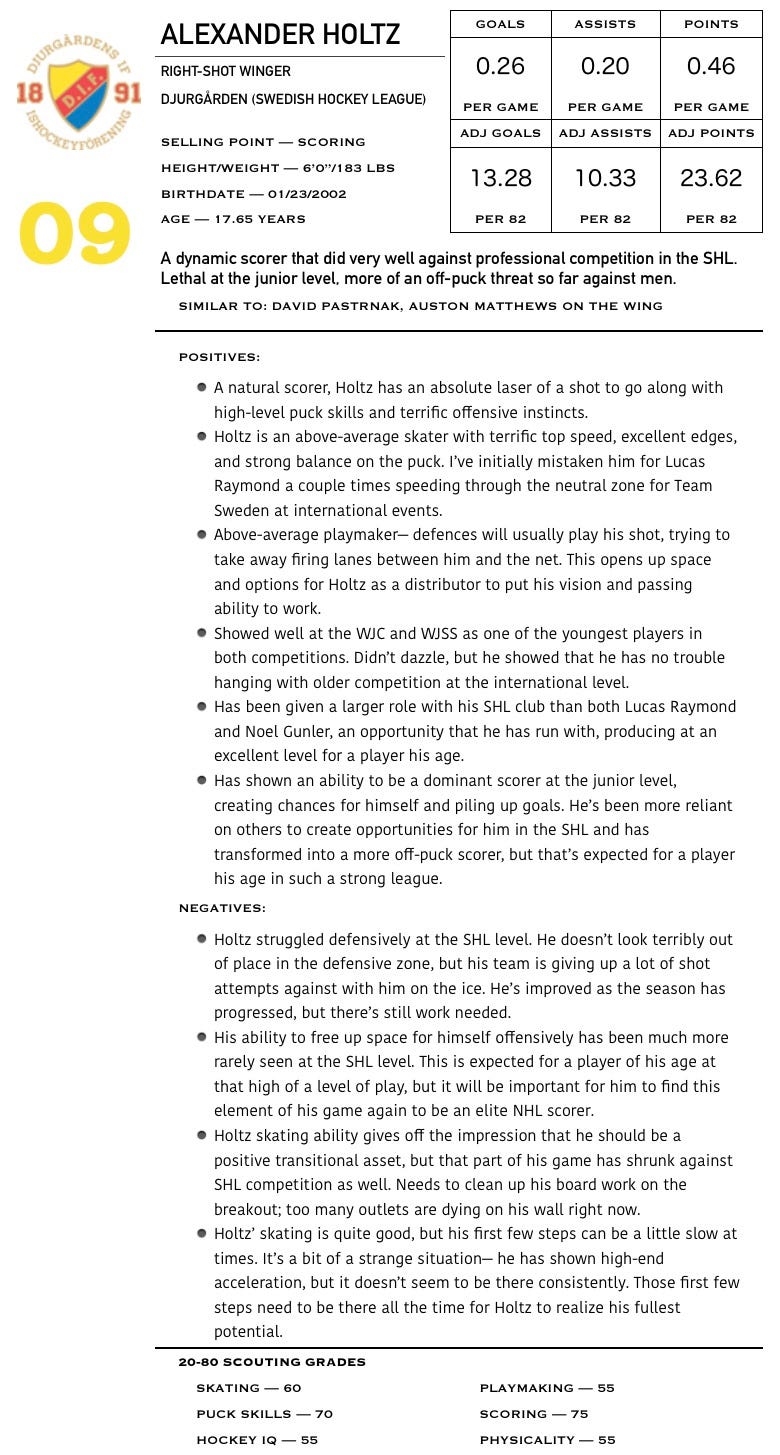 One Thing I Love: He can absolutely rip the puck. Potential 40 goal scorer.
Another Thing I Love: Holtz is excellent around the crease and will go hard to the net. Adds an important level of versatility to his scoring profile and is a nice trait that isn't always common in 6'0" snipers. Saw some deployment in the slot and net-front roles on the man advantage for Djugarden, rather than out on the half-wall in the "Ovechkin role" like is common for snipers.
Projection: A 60-70 point forward with 30-40 goal upside, but negative impact in the defensive end will hinder his value somewhat.
Methodology: Holtz is a super talented offensive player. I'd say he's a little better offensively than Noel Gunler-- he's a better skater and playmaker (but not by a whole lot). In terms of scoring ability, they are quite similar (I have them both projected in the range of 30-40 goals). Holtz was, by the uncontextual eye, the most effective of the three Swedes (Raymond, Gunler, and himself). He tallied 9 goals and 16 points in 35 games in close to 13 minutes a game, which equates to 2.13 points/60. He owns the highest rate of primary points per game of any draft eligible player to play a game in the SHL dating all the way back to 2008. He did an exceptional job putting points on the board, no doubt about it. But where Holtz doesn't look quite as exceptional is when we look at his on-ice impact. Djugarden was a good team this year, finishing 6th in the SHL standings and posting the second highest team-wide shot attempt percentage in the league at just over 53%. By shot attempt share, Djugarden wasn't as strong with Holtz on the ice than they were overall: Holtz sported a 50.24% SAT% over his 35 games, ranking 11th among the team's regular forwards. Looking at shot attempt impact, he was the 12th best offensive forward and 15th best defensive forward to play more than 15 games for the club. So he might have been a top-sixer in terms of points on the board, but his actual on-ice impact was considerably less. Comparing him to the two other Swedes, he actually had the lowest team-relative CF%: -2.83, compared to +0.92 and +1.83 respectively for Lucas Raymond and Noel Gunler.
Holtz and Gunler are practically a toss up in my eyes, but I ultimately decided to lean Holtz just for increased dimensionality to his game. He can snipe, he can skate, he can dangle, he loves to hang around the net, and he can feather difficult passes when the opportunity presents itself. Offensively, he checks off all the major boxes. He hasn't showed much effectiveness as a driver of play through transition at the SHL level, but it was an element present in his game at the junior level and something that could develop with increased comfort against professional competition. And even if it doesn't, his scoring and other offensive tools will still make him a valuable asset. His defensive play needs work too, but I generally tend to be quite forgiving of that for players his age, especially when they're going up against competition as strong as you'll find in the Swedish circuit. As he matures, he should be a decent enough defensive player to manage on the wing.
10. Noel Gunler, RW, Lulea (SHL)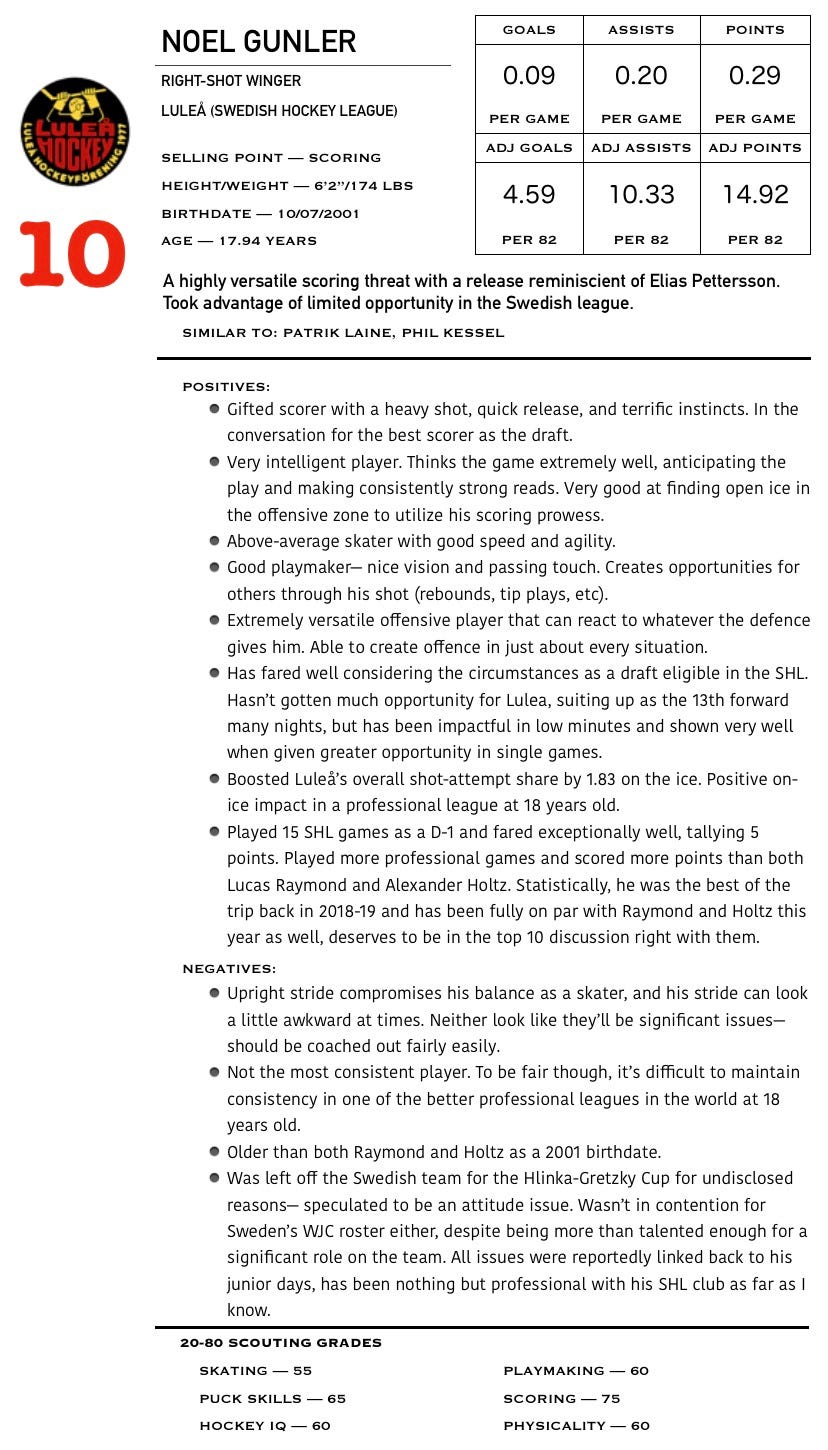 One Thing I Love: Gunler's release is absolutely devastating. He scored only four goals in a very limited role for his SHL club, but is just a year removed from finishing four goals shy of a goal per game in the SuperElit and found the back of the net four times in the four J20 games he played this season. He has a fast, deceptive release with an explosive weight transfer. Look at this professional-level, Swedish Hockey League goalie just have no idea what whizzes by him:
Another Thing I Want To Point Out: For a so-called "average skater", he sure puts a lot of space between him and the defender with his separation speed on this breakaway:
Projection: 30-40 goals and 55-70 points a year. Excellent compliment to a high-end playmaker.
Methodology: Gunler has a real argument for the best scorer in the class. His release is filthy, his shot is very effective, and he has a nice skillset surrounding it. He's an above-average skater with good vision and terrific puck skills. His scoring will always be his focal point: he's an incredibly versatile finisher that can beat goalies in a variety of ways. He's lethal coming down the wing on the rush, can beat goalies from beyond the circles, finish in tight, score from very tight angles, and is consistently able to find pockets of ice in the slot. He did very well this season in the SHL considering his very basic usage, suiting up as the thirteenth forward for Lulea some nights. He averaged a little under 10 minutes per game over the full season, managing 1.77 points/60 in that role. And unlike Holtz and Raymond, he got extremely little powerplay opportunity and recorded every one of his points at even-strength (a more difficult game state to score in, obviously). For an 18 year old bottom-sixer in the third best league in the world, that's solid.
The primary knock on Gunler is inconsistency in his game-- he can disappear for periods, but shine for others. I don't think this should be considered much of an issue: it's a little lofty to expect an 18 year old playing limited minutes in the third best team in the league to be on the top of their game at all times. As he grows as a player, he should find that consistency. It's also important to note that even as an on-and-off player he was a positive-impact player by shot attempts, suggesting that the high points outweigh the lows and that he's a solid player overall. I like to bet on players with elite skill that found success in professional leagues before they're drafted, and so should you. Gunler is absolutely worthy of a top ten selection in my eyes and looks like he'll be one of best value picks in this year's draft. If your team gets this player in the late teens or in the twenties, it's time to celebrate.
Tier Four-- This tier is made up of the prospects that could be big-time contributors like Jarvis or Bourque, but also steadier contributors with all-around games that might not have quite as much overall upside like Rodion Amirov, Jack Quinn, and defenceman Jake Sanderson.
11. Seth Jarvis, RW, Portland (WHL)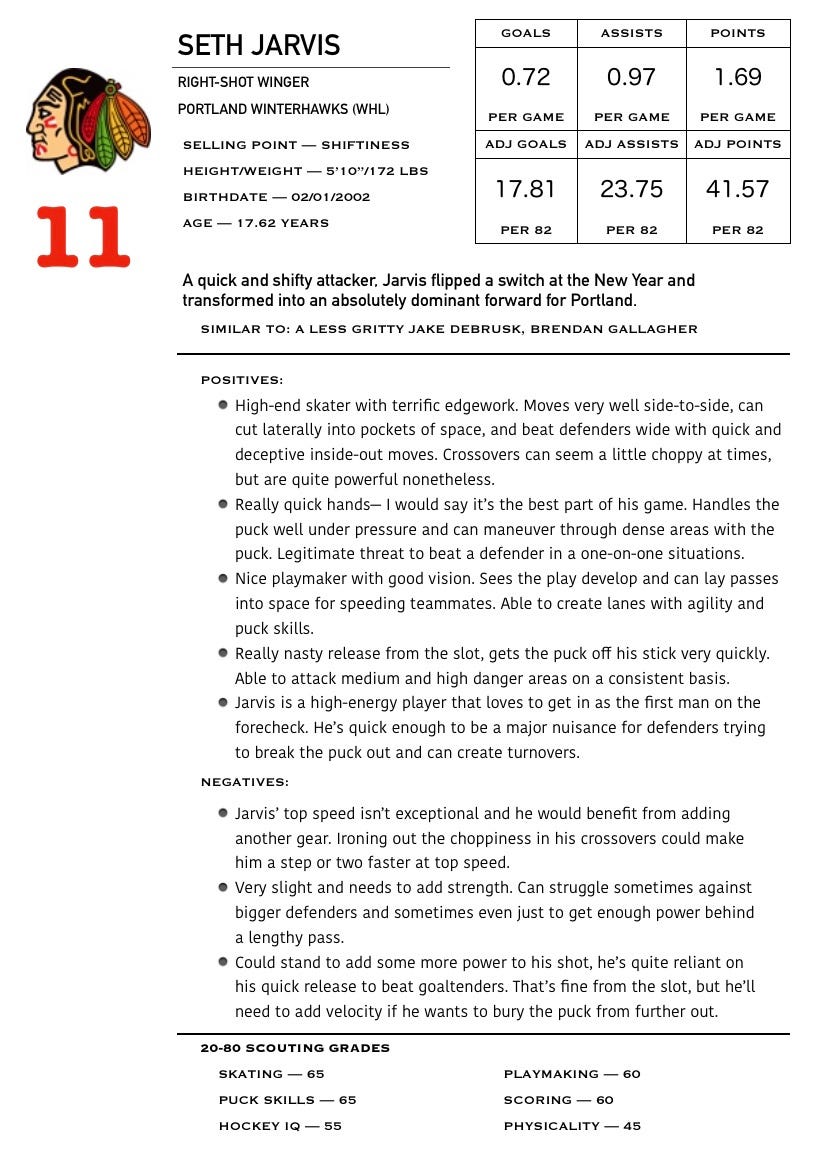 One Thing I Love: is the level of absolute dominance that Jarvis showed after seemingly flipping a switch in his calibre of play at the New Year. The winger had 35 points in 32 games before January 1st, followed by an incredible 63 points in 24 games afterwards. That's 2.4 points per game-- which would have been the fourth best CHL draft season since 1996 had he managed to do it all year long, bested by only Sidney Crosby, Patrick Kane, and Connor McDavid. Of course, Jarvis wasn't at that level through the first half of the year (he very well might be #1 on this list if he had). But his cumulative season totals are still exceptional: he recorded 98 points in just 58 games, a rate of production on a level similar to Leon Draisaitl's DY and better than the likes of Ryan Nugent-Hopkins, Nolan Patrick, and Mathew Barzal, to name a few.
Another Thing I Love: He's so good at handling the puck with a defender right on his back or by his side. Defensive pressure does not seem to faze him in the slightest.
Projection: 70+ point upside, but with a wider range of potential outcomes due to the variance between his first half of the season and the second.
Methodology: Jarvis is super talented, and he should be a no-brainer top 15 pick at the draft. He's a shifty, elusive attacker with a wide range of offensive skills: he can finish effortlessly from the slot with a quick and accurate release, zip passes through cross-ice seams for dangerous opportunities, and consistently penetrate the slot with his agility, edgework and puck skills. His explosion in the latter stretch of the season seems to be the result of a sudden finding of consistency-- going from scoring at least a point in 21 of his first 32 games to 24 times in the 26 games afterwards-- rather than an incredible stretch to puck luck. He was the best player on a Portland team that finished 1st in the WHL, leading the team in scoring by a 28 point margin and recording a point on 36% of the Winterhawks' 270 total goals. The only question mark in his profile is the possibility that he slips back into inconsistent, first-half version of himself as he progresses to higher levels of hockey. It's unlikely, but it extends the range of his projection. Could he end up as a 40-50 point forward like he appeared to be before the New Year? It's possible, but he shows big-time upside and I'm confident that he'll get there.
Jarvis really isn't far off from the wide tier above him. Had he played like he did in the second half for the entirety of the year, he'd most likely be in that group. He's the type of player that absolutely excels in a high-tempo environment (seems like he'd be an excellent fit with the Leafs , honestly) like Portland was this year. As a team, they were lethal in transition: they'd send both wingers out high into the neutral zone on the breakout and just bomb long passes (again, the Leafs fit just seems perfect) towards them. They had an aggressive, effective forecheck that forced chip plays out to the Portland defencemen, who would immediately move the puck back through the neutral zone for another attack. Jarvis absolutely excelled in that situation; put him in a similar one in the NHL (like Toronto!) and he should continue to find success.
12. Rodion Amirov, LW, Ufa (KHL)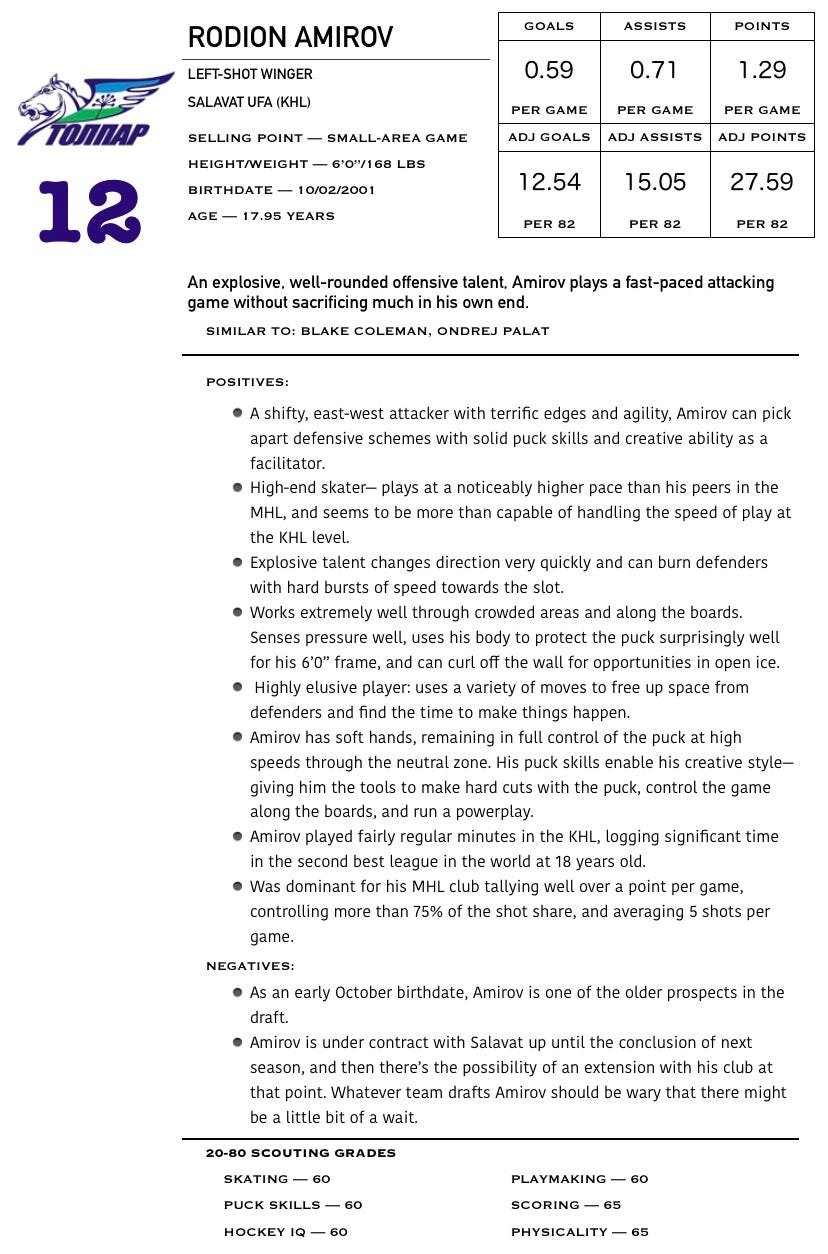 One Thing I Love: Amirov is very well-rounded and can be depended on to make positive plays all over the ice. The winger does a lot of the "little things", and his team benefits greatly from it. He's very focused on the puck, always looking to hound the puck carrier and apply pressure. Defensively, he's conscious of open space and can fill gaps in his team's defensive structure when necessary. He's quite developed as a two-way player for his age. When his teammates have possession, his focus is to provide support and make himself an option. This general mindset of puck pressure and support is excellent, and these habits should make him a very positive possession player at the NHL level. Amirov is also really excellent along the boards, able to protect the puck from defenders and win battles for the puck despite his relatively slight 6'0", 178 lb frame. That's another area-- puck recovery and protection-- that should show up in possession measures.
Another Thing I Love: Amirov is extremely agile, allowing him to throw off defenders with quick stops and changes of direction. He's one of the better players in the draft at operating with a defender on his back.
Projection: A 50-60 point winger that can play in all situations. Seems like he should show well in possession statistics like shot attempts and expected goals.
Methodology: I really like Amirov. He's not the flashiest player, but he's a versatile two-way winger that projects to be impactful in ways that don't really stand out (in addition to solid box score stats). He played 21 games in the KHL and was fine at that level, tallying 2 points in less than ten minutes of ice per game. He has plenty of qualities that should make him a really capable NHLer: good wheels (though he would really benefit from additional quickness and explosiveness), a really dangerous shot, plenty of puck skills, and the awareness in all three zones that should become his calling card. I don't think his ceiling is crazy high-- we'll probably see a ~60 point top-sixer if everything breaks right (which is still very good), but even if Amirov turns out to be a 40-50 point middle-six forward I think he'll do a lot of the little things that result in a tangible impact that is greater than the points suggest.
Russia isn't the greatest environment for a prospect to establish themselves as a high pick. The best players, like Amirov, see very limited minutes in the KHL, while others play in the U20 MHL with huge disparity between the best teams and the worst. In the CHL, it's entirely possible that Amirov might have put himself in the top ten conversation with a dominant season. His small-area game is really excellent, which should aid Amirov in translating to the NHL game. Add that to his all-around game and professional experience, and that's one hell of a draft day resume.
13. Mavrik Bourque, RHC, Shawinigan (QMJHL)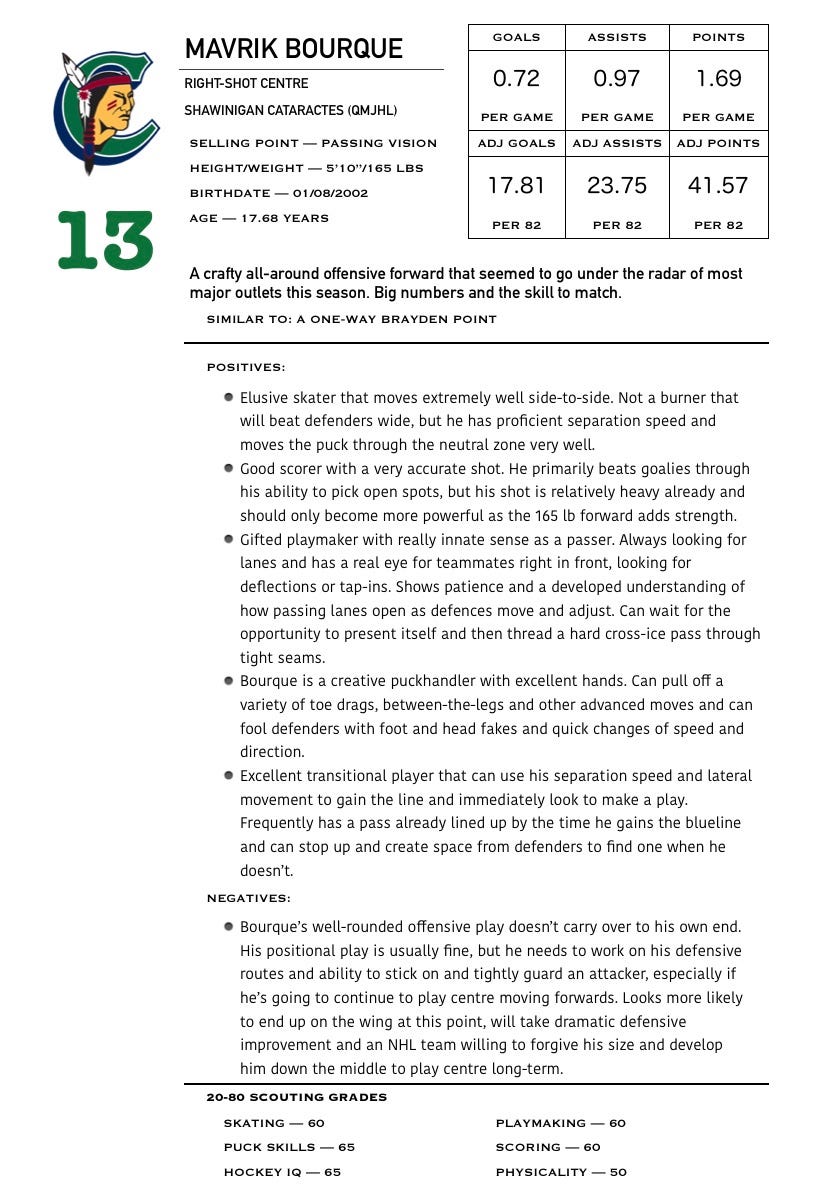 One Thing I Love: Bourque is extremely talented on the puck, able to make moves and maintain possession with defenders right on him. He isn't the quickest skater in the world, but he's able to consistently slip away from the clutches of defenders and find open ice to facilitate.
Projection: 60-65 point winger.
Methodology: It's a possibility that Bourque drops into the 20s at the draft-- he was 28th on Bob McKenzie's most recent list-- which would make him one of the greater steals in the draft. I see him as being a clear tier ahead of fellow QMJHL forward Dawson Mercer-- Bourque had more points, primary points, and shots on a per game basis, a greater goals-for impact, and contributed to more of his team's total goals. An intelligent two-way player, Bourque has an ultra well-rounded offensive skillset: he's a dual-threat attacker known for his playmaking vision but more than capable of burying the puck on his own too (coming just one goal short of 30 tallies on the shortened season, second on his team). He's got puck skills, intelligence, vision and passing touch, and a real scoring touch. With his level of production-- 1.45 points per game, well over one primary point and four shots per game, and recording a point on 40% of Shawinigan's team goals-- it sure seems that he's got a lot going for him. He could be a little quicker and stronger on the puck (listed at 165 pounds), but his puck skills around defenders allows him to mitigate closer-to-average grades in those areas and maintain his elite level of offensive danger. He has quite a ways to go defensively-- some of his defensive fly-bys can be painful to watch-- but I see him as a winger moving forwards where he'll have less to worry about in his own zone.
14. Jake Sanderson, LHD, United States National Team Development Program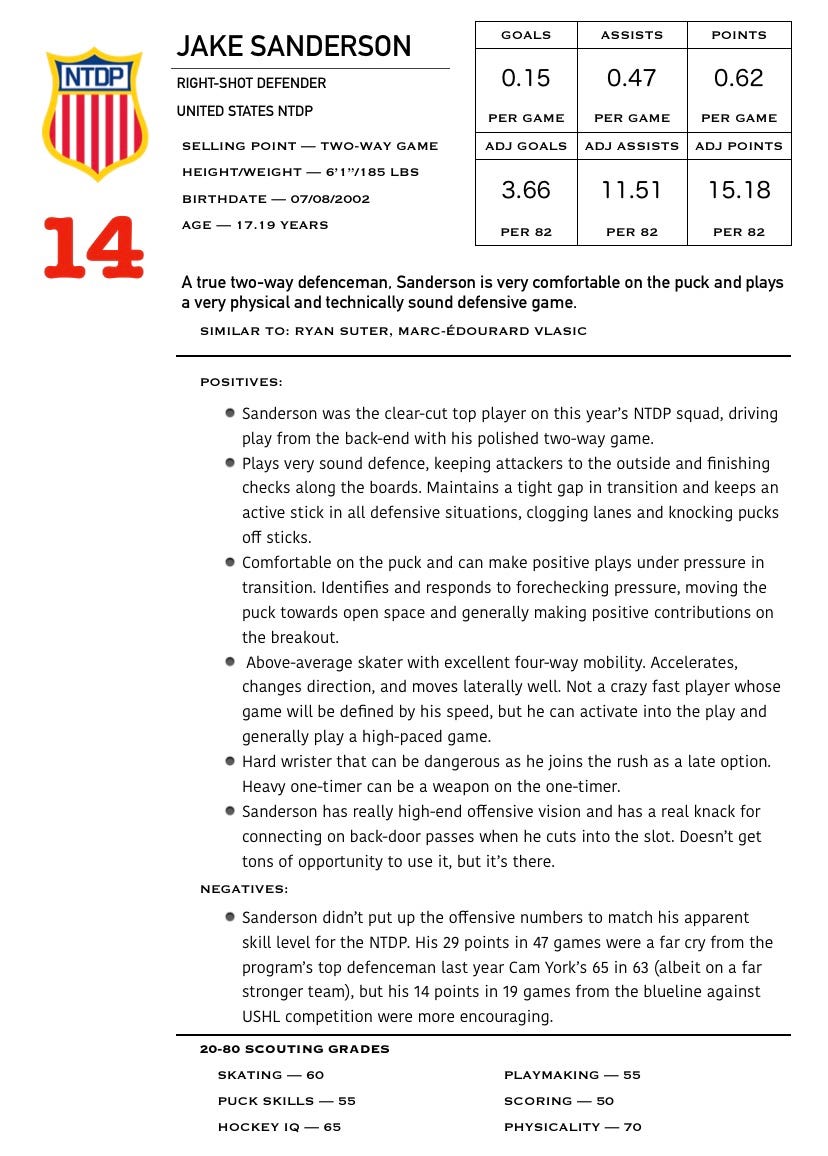 One Thing I Love: A lot of the time when people talk about a "shutdown defenceman" coming through the draft, it's a 6'4" giant with bricks in place of both feet and hands. That's not the case at all with Sanderson. Most defensive defencemen are able to strip an opponent of the puck, but immediately fumble that puck away and all their hard work does nothing but take them out of position while the opposing team continues with possession. With Sanderson, we have a 6'1" defender that not only has the strength and stellar defensive fundamentals to separate an attacker from the puck, but also the quick feet and high-end brain to get the puck and transition it back the other way. This trait is what makes or breaks what we like to call a "modern shutdown defender" (which is a pretty way of saying a defensive defender that doesn't get absolutely dominated every time they step on the ice because all they can do is throw hits).
Here's what I mean: Sanderson separates player from puck in the corner. That's a great start, but by staying poised with the puck and finding an outlet, he gets the play moving back up towards the offensive zone. That's the make-or-break element of this defensive sequence-- had Sanderson promptly turned the puck back over or just chipped the puck out to the neutral zone for the opposition to regroup, the positive impact of that hit in the corner falls back down to essentially zero.
Projection: A 20-30 point defenceman that can provide a lot of value with high-level puck recovery and transitional play.
Methodology: At this point, it seems like a very realistic possibility that a team uses a top ten pick on Sanderson. I absolutely would not take him that high, but I can make some sense of why a team would do so. Legitimate positive-impact "shutdown" defencemen of Sanderson's ilk-- players who can recover the puck and get it moving back up ice in an efficient and effective manner-- are not common. If a team decides a defenceman that looks like they'll be able to drive possession and goals through their two-way play from the blueline at a moderately high rate is more valuable to their organization than a forward with 70+ point upside, they should be comfortable expending top 10 draft capital on the American defenceman. I'd take the high-calibre forward all day, but if a team truly values the defender higher then they shouldn't regret their selection down the line. Outside of the top 11, I feel Sanderson would make an excellent pick. A steadfast opinion of mine is that the most important trait a defender can possess is the ability to drive play through transition. With his puck recovery, mobility, and intelligent outlets, I think Sanderson shows plenty of promise in that area. Anybody expecting him to contribute the majority of his value through offensive flair will be disappointed, but there's strong potential for a really dependable shutdown blueliner to emerge here. Wouldn't bet on a top-pairing standout, but he projects as a top-four guy that can really stabilize a pairing with a more offensive guy.
Sanderson has gotten plenty of hype over the second part of the season. I'm far from as all-in on him as some are: I've seen people with the opinion that Sanderson is better than Drysdale, for example. I think some people are more attracted to Sanderson's general skillset-- most players with his defensive ability are clueless with the puck, whereas Sanderson skates well and makes strong decisions with the puck. When a player's offensive abilities are better than is typical for their archetype, they can appear better than they are. Sanderson isn't going to be any sort of gamechanger offensively-- his offensive production for the NTDP wasn't overly inspiring, he isn't going much of a powerplay option, and his offensive creativity and aggressiveness is far from exceptional. Defensively though, he's a terrific player, and he looks like he'll be a strong transitional player. As long as the team that drafts him knows that those are the areas where his impact will be, he's going to be a solid draft selection.
15. Jack Quinn, RW, Ottawa (OHL)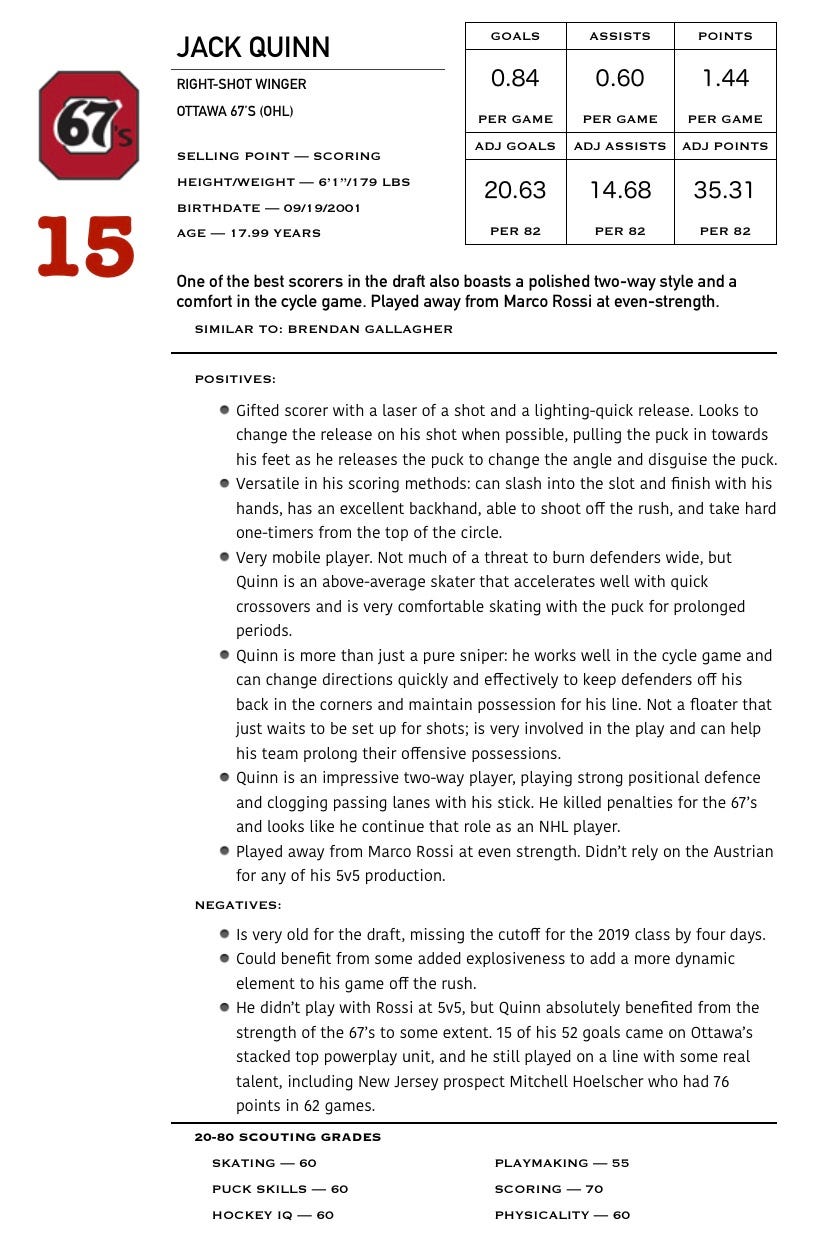 One Thing I Love: His release and overall shot will always be his calling card (and don't you worry, there will be a clip or two in a second), but a really pleasant surprise about Quinn's game is how well he fit into the cycle scheme for Ottawa this year. The 67's were the OHL's top team with two lines in their top 6 capable of pinning the opposition in their own end for minutes at a time, and Jack Quinn was extremely involved in that process. He's not just a shooter-- he's a player that can extend offensive possessions and work off his teammates to drive possession and create goals.
He can hold defenders off his back with quick changes in directions and stop-and-starts, allowing him to work along the boards and extend possessions.
As Promised, Some Clips Of His Shot:
One More Thing I Love:
Quinn shows flashes of more dynamic tendencies, looking almost like his teammate Marco Rossi at times. Here he is wheeling the puck around the outside of the zone:
The next step for him is becoming more consistent in that area and developing his dynamic play off the rush-- learning to come down the wing with speed and mix in lateral movement to manipulate lanes and create space.
Projection:  30-40 goal scorer with 65 point upside. Solid two-way game.
Methodology: Quinn has gotten some talk as a potential top 10 pick in this draft, and honestly, I can see where it comes from. The 67's forward has a lot of really promising tools-- the deceptive release, powerful shot, above-average wheels, ability to create out of the cycle game, and comfort along the boards and around the crease. The #1 conclusion to take out of this is that Quinn is far from a pure scorer: he's not just going to sit at the top of the circle and wait for one-time feeds. He can enter the zone with control, he can work off his teammates in the cycle game, he can maneuver around the perimeter of the offensive zone and look for holes in the defensive structure, and he has no fear of attacking the slot both with the puck and off-puck for quality opportunities.
One thing that's really important to recognize though is that Quinn's numbers, like anybody playing for Ottawa, were helped by the strength of his team. He recorded a point on about 30% of the 67's goals, which is an undoubtedly high rate and absolutely good enough for him to be deserving of a pick in that range. If we apply that 30% to the OHL-worst North Bay's offensive totals, we can estimate that Quinn wouldn't have cracked a point per game on that Battalion squad. These calculations are rough estimates that don't account for the full picture, but it's important to understand how impactful team strength can be on a player's raw totals before we make direct comparisons to other OHL players like Jan Mysak or Jacob Perrault on weaker teams.
That being said, I'm a big fan of Quinn's tools and he has the statistical profile to back it up. I see him as a top-six winger that could really excel playing alongside a bigger playmaker-- somebody that can work off of him in the cycle game, find him in the slot for shots, and really just maximise the full extent of his abilities. Will he be a primary driver of play? I don't think I'd count on it. But he's not going to be a total passenger either; he's the type of player that can form a mutually beneficial relationship with a better player.
16. Yaroslav Askarov, G, SKA-Neva (VHL)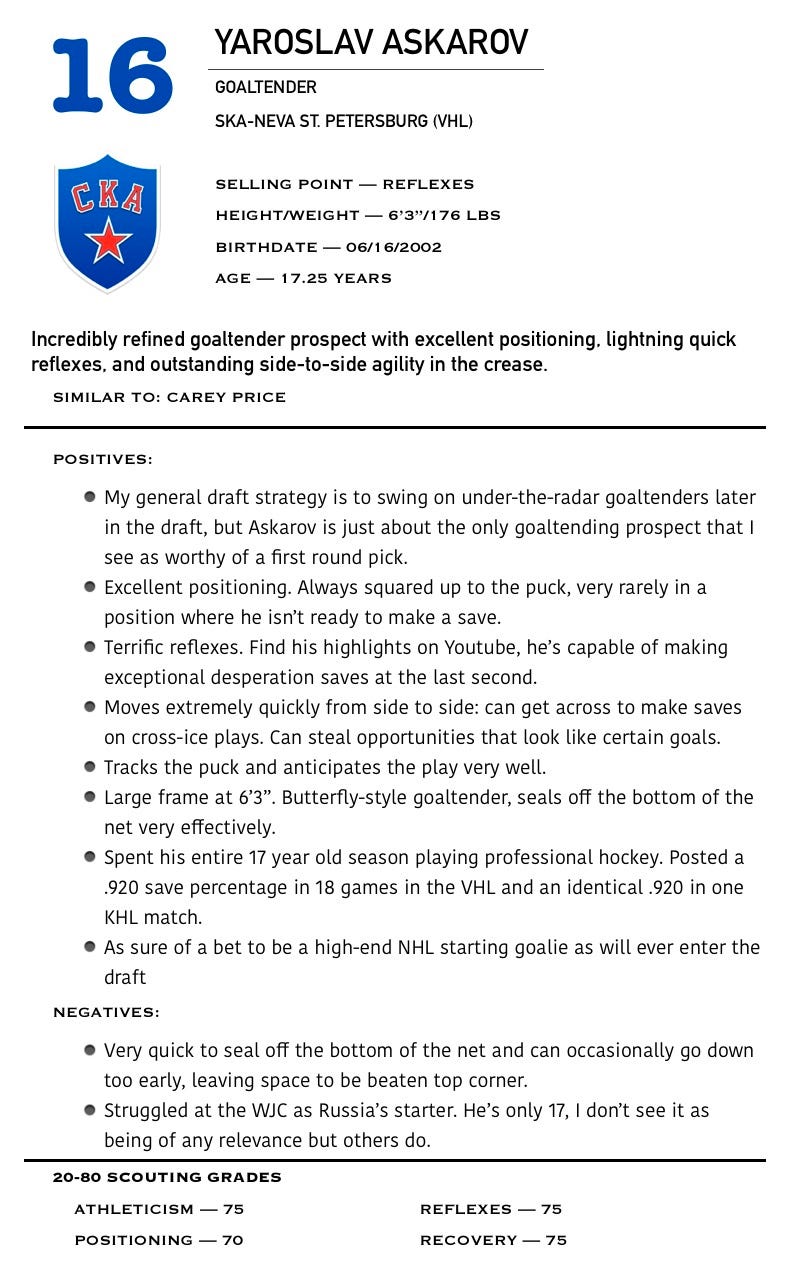 One Thing I Love: Askarov is incredibly athletic and possesses an exceptional ability to recover when he appears to be beaten. He's flexible, able to hit the splits and cover the entirety of the net. Just look at some of the plays below-- his ability to make desperation saves is extraordinarily well-developed:
Projection: A clear cut NHL starting goalie with potential to be one of the best in the league.
Methodology: I'm the furthest thing from a goaltending expert, but it doesn't take an expert to recognize Askarov's elite potential. His positioning, athleticism, and reflexes are all top class and he has excelled at several levels in the Russian and international systems. The 17 year old goaltender boasted a .920 save percentage in 18 games in the VHL (Russia's second-tier professional circuit) and saved the same 92% of the shots in the single KHL game that he played. He wasn't so good at the WJC, but a small-sample tourney like that is irrelevant in the long run.
Forget what I said about not taking an expert to see Askarov's upside earlier: I don't know anything about goalies and shouldn't pretend as such. But those who are familiar with the position are big fans of his game. As I've been doing in my rankings all year, I encourage anybody who hasn't to read this excellent profile from @TPEHockey, which has lots of video and a really detailed explanation of some of the finer points of his game:
I'm not usually a proponent of drafting a goaltender in the first round-- there's usually plenty of talent available later on and it isn't a super difficult position to address via free agency or trade-- but Askarov is far better than your regular goaltender. He has elite potential and is deserving of a fairly high pick in this draft. He wouldn't be a terrible pick anywhere outside of the top 5-- I personally wouldn't take him until after 10th overall, but if he reaches his realistic potential as a really high-level starter I don't think anybody will be complaining about him in that range.
17. Dawson Mercer, RW, Chicoutimi (QMJHL)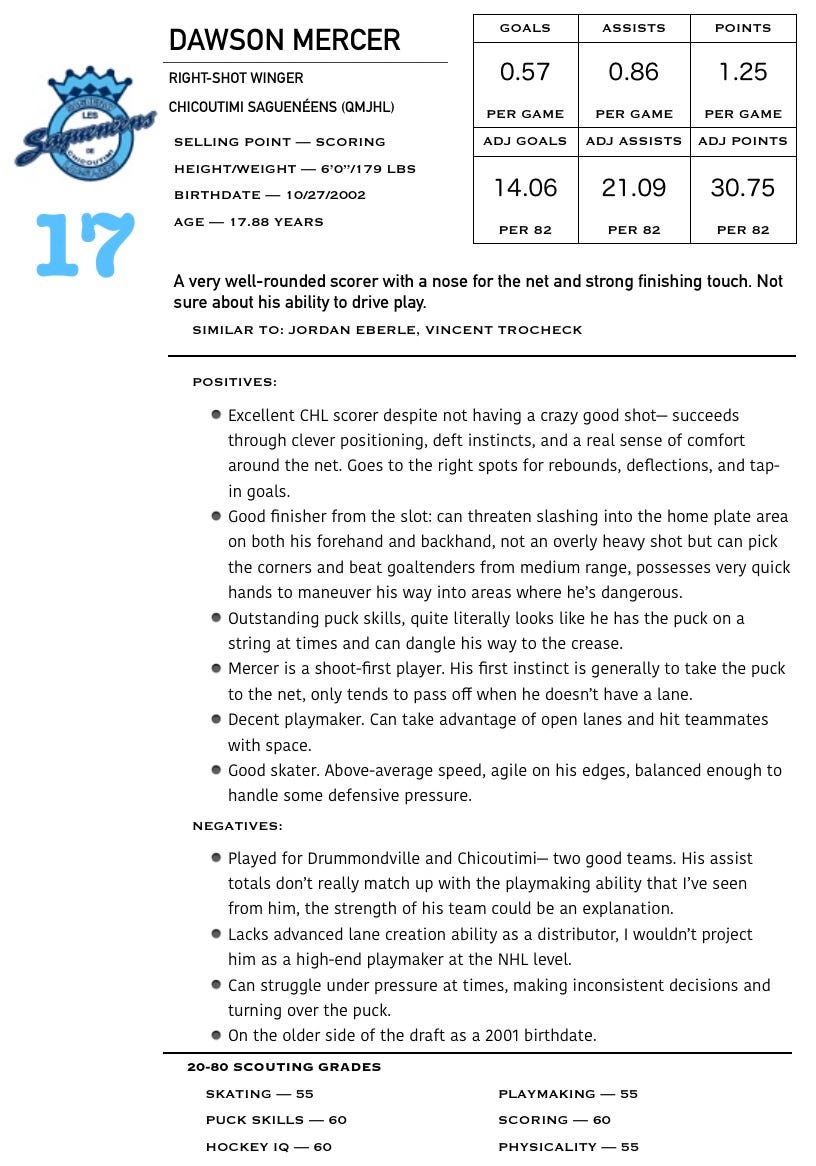 One Thing I Love: Mercer's another really strong all-around player, but his calling card as an NHLer should be his ability to put the puck into the net. He lost a good chunk of the year to injury, but scored at a 39 goal pace over the games he did play for Drummondville and Chicoutimi. He's a really intriguing mold of scorer-- he doesn't have the crazy shot that most snipers rely on, instead using deft offensive instincts and a willingness to hang around the net to produce goals at a really high-end level. This hatty from January demonstrates the types of goals he scores: he finds a puck in the slot for the first, finishes from the top of the crease in the second, and positions himself on the receiving end of a cross-slot passing lane for an easy one-time finish for the last. There's no Alexander Holtz or Noel Gunler like shot there, but he's a very effective scorer nonetheless.
Projection: 50-60 point winger capable of 25-30 goals a year. Not sure about how strong his on-ice impact will be by most possession numbers.
Methodology: Mercer was traded from Drummondville, who ultimately finished 6th overall in the QMJHL, to third place Chicoutimi midseason. It's always a little more difficult to evaluate players who change teams because it breaks up the contextual situation surrounding them into two parts. With Drummondville, Mercer had 42 points in 28 games, factoring in on about 31% of their goals. After the trade, Mercer had a much slower 18 points in 16 games, recording a point on about 26% of their goals. He didn't lose a whole lot of production after the change in scenery, which is encouraging to see. The one question mark I do have about Mercer's statistical profile is his goals-for impact-- he put up tons of points, but Mercer didn't seem to drive play a whole lot, only boosting his team's goals-for % by 0.41 percent. For comparison, Mavrik Bourque held a 4.92 relative goals-for percentage. I can't punish him too hard here-- goals for percentage can be swayed by outside influences like luck and goaltending very easily (and he wasn't even negative impact!), but most top prospects are distinct positives by this measure (Mercer has the lowest relative GF% of any CHL forward to appear on this list so far). I can see myself looking back and concluding that I put too much weight into this measure in this edition of my rankings once we see how this draft class does at the NHL level, but my current viewpoint is that I think we can learn a lot about a player's true impact and ability to be a positive impact player in the NHL by how they influence team goal share and am putting a fair amount of stock into it this year accordingly.
I'm a little lower on Mercer than most. He seems to hover around 12th overall on a lot of lists (HockeyProspect.com, Future Considerations, and ISS Hockey all have him there). His raw production, especially with Drummondville, is really encouraging.  70% of his points were primary, compared to 76% for Alexis Lafreniere and 80% for Mavrik Bourque. Statistically, Bourque has Mercer beat in just about every major category. Of those two, I think Bourque is a clear tier above, but plenty would disagree. Mavrik is more dynamic and has a higher ceiling, whereas Dawson Mercer is more of a steady, all-around character that should be very well suited to a middle-six role.
18. Lukas Reichel, LW, Eisbaren Berlin (DEL)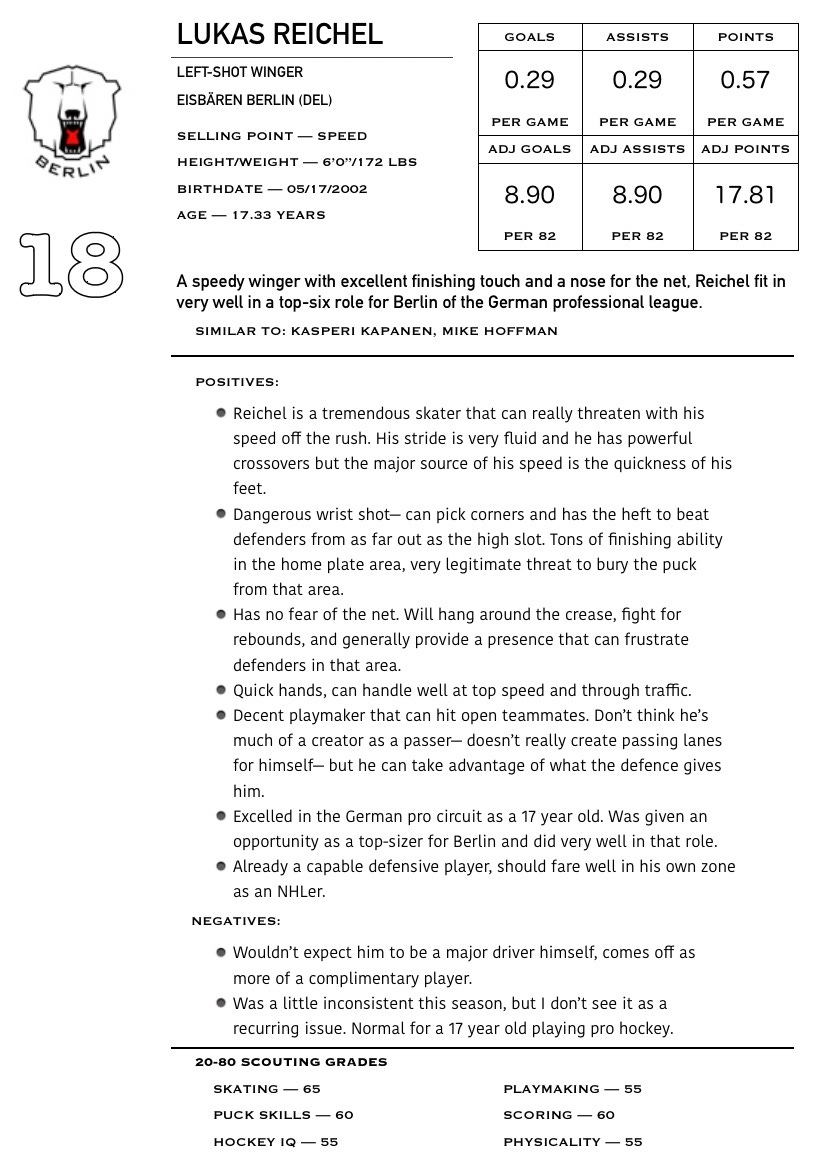 One Thing I Love: Reichel is a really excellent skater that can use his speed to effectively transition the puck and threaten off the rush. He has a really smooth stride, generating power with quick crossovers and accelerating very efficiently. The first thing you'll notice about his game is his ability to make high-pace plays like this one:
Another Thing I Love: Reichel can snipe.
Projection: A complementary scoring winger that can pot 20+ goals in a top-six role with top powerplay minutes. Should be able to support some of the load in transition too.
Methodology: Reichel deserves a lot more credit for his season than he's gotten. He really wasn't far off from Tim Stutzle in scoring efficiency-- Reichel managed 24 points in 42 games (0.57 points/game) in just under 13 minutes per game, compared to 34 points in 41 games (0.83 points/game) in more than 16 minutes per night for Stutzle. Looking at points per 60 minutes of ice time, Reichel's 2.65 points/60 compares quite favourably to Stutzle's 3.09 considering the perceived difference between their NHL futures. Reichel has a really promising set of tools that should make him a very effective scoring winger at the NHL level. He has tons of finishing talent to bury the puck when the opportunity presents itself, he has no fear of playing around the crease even as a 6'0" winger, and his speed through the neutral zone should allow him to support his linemates in transition. Those tools should be the primary source of his offence, but he's also a serviceable passer that can move the puck quickly to open teammates and a player who can navigate denser areas of the ice with the puck relatively well. Looking at his profile, it's rather easy to imagine a scenario where he really thrives on the wing of a talented playmaker who can play a similarly high-paced game for an NHL team.
Whereas Stutzle has gotten plenty of attention, I feel like Reichel has fallen under the radar a little despite playing on all the same levels as the top ranked German, including an entire season in the DEL and a similarly strong showing at the World Junior Championship (five points in seven games to Stutzle's five in five). He has plenty of speed, he can snipe, he goes to the net, and he was terrific in the DEL. Reichel has the ideal profile to thrive as a complementary scoring winger in a team's top-six.
19. Dylan Holloway, LHC/LW, Wisconsin Badgers (NCAA)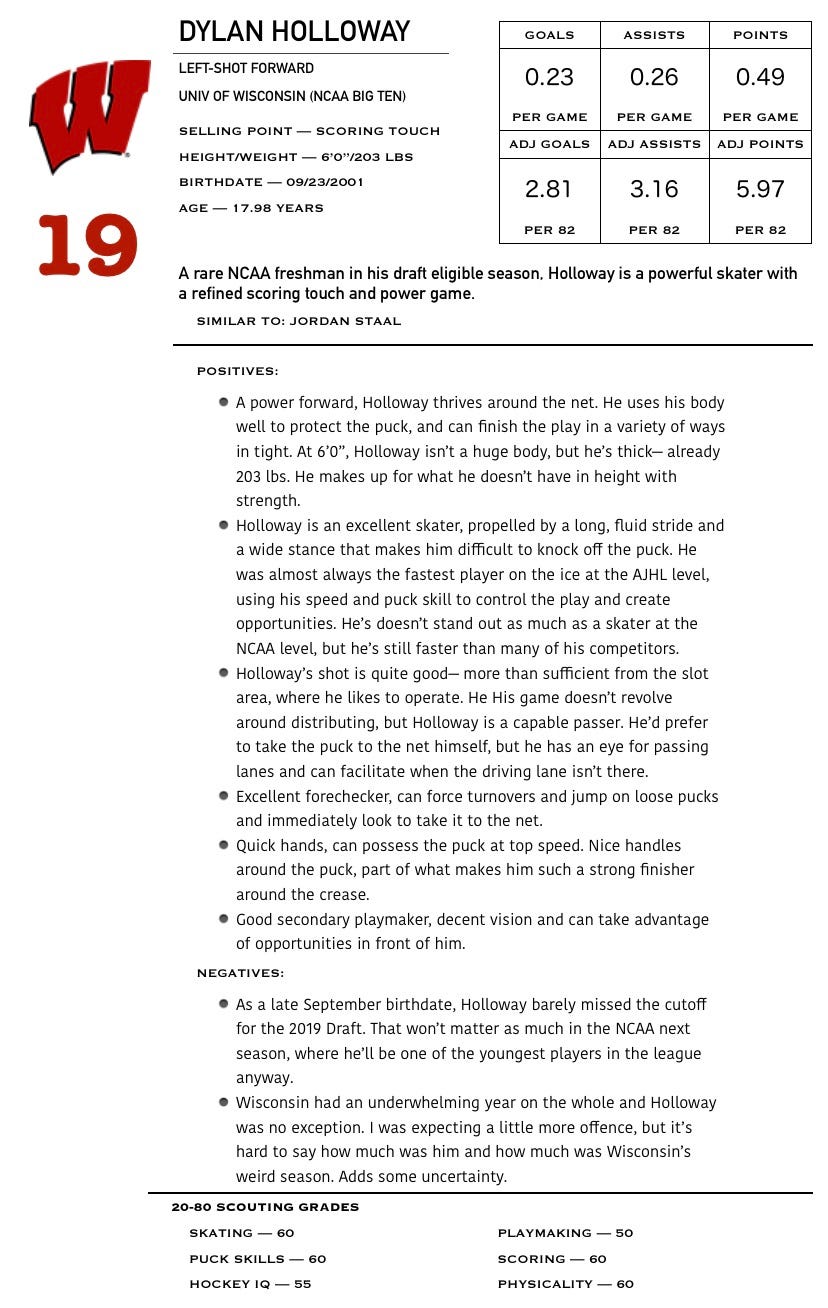 One Thing I Love: Holloway has a really intriguing profile as a scorer and could be a major scoring threat at the NHL level. He only scored 8 goals as an NCAA freshman this season, but he has a very attractive "power sniper" package: quick hands, a big shot, and despite his 6'0" frame, a high level of comfort driving to the net and playing around the crease. And at 192 pounds, he's built heavy and should only be even stronger by the time he reaches the NHL. Worth noting: Brady Tkachuk, who also had 8 tallies as a DY NCAA forward, has topped 20 goals in both seasons of his young NHL career so far.
He can absolutely snipe--
And has a lot of skill around the net--
Projection: Similar to Reichel, Holloway projects as a valuable complementary winger that can play in a top-six. Doesn't have the same speed and comfort in transition; however, he offers versatility as a guy that can potentially play some centre (I expect the majority of his time will be on the wing) and bring more of a physical presence at 6'0" tall and over 200 pounds. Probably a little more potential to disappoint expectations just because it's hard to get a good feel for NCAA freshmen (especially on a really confusing Wisconsin Badgers team this year), but there's lots to like about his game.
Methodology: Holloway is a tough guy to get a read on, but I was high on him coming out of the AJHL last year and he's done nothing to disappoint me in 2019-20. Despite a fairly unspectacular statistical season (it's hard to produce as an 18 year old in college!), he demonstrated high-end offensive upside in a more friendly environment as a DY-1 in the AJHL with 88 points (including 40 goals) in 53 games. There's so much to like about his toolkit as a scorer and I'm confident in that part of his game translating well to the NHL. His upside doesn't look crazy high (NCAA hockey's high level of competition might be shrouding it a bit), but he looks like he'll be a very useful complementary piece that can play in a top-six.. He should make an excellent selection anywhere in the teens.
I think there's top 15 talent here, but Holloway has more uncertainty around him than is more. It's always difficult to judge NCAA freshmen and it's even harder when they played for a team like Wisconsin, who boasted the likes of Alex Turcotte, Cole Caufield, K'Andre Miller and several others drafted by NHL teams and still managed to underwhelm massively. It's hard to get a feel for his upside and his projection has a lot more uncertainty as a result (which might not matter to some, but risk-management is part of my process), so I've dropped him down a bit. I think the best-case scenario is a legitimate top-six centre that can contribute 30 goals a year; but more likely, we probably see him on the wing in a more complementary, non-driving role where he uses his shot and physical presence in an off-puck role.
20. Jan Mysak, LW/LHC, Hamilton (OHL)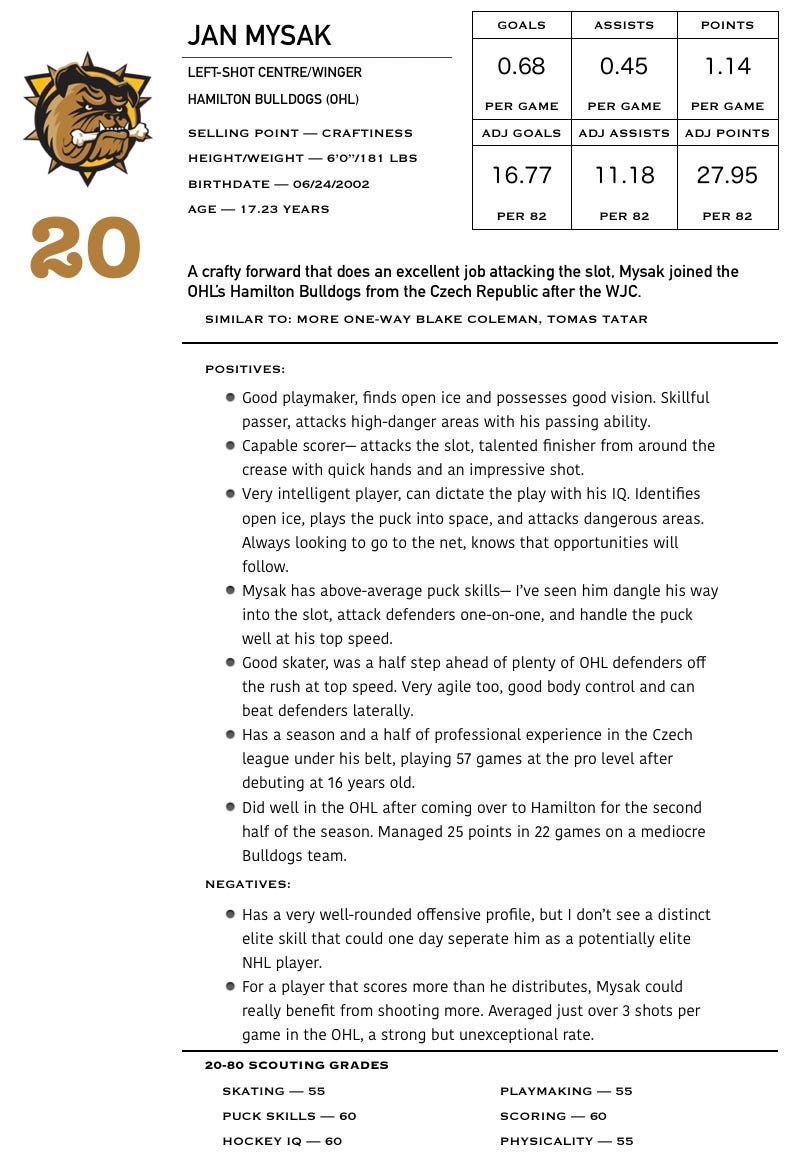 One Thing I Love: Mysak has excellent puck skills and can really accelerate the pace of the game. He's an above-average skater with an awkward stride, suggesting that he'll be even faster if he can iron that out. He's a major rush threat, able to speed through the neutral zone and beat defenders wide or cut hard into the middle for a hard shot.
Look at how quickly he's able to get up to full speed and burn the defender here.
Projection: A 50 point complementary winger with an intelligent, high-pace offensive game.
Methodology: Mysak's a fun player to evaluate because he split his season between the professional-level Czech ExtraLiga and the Ontario Hockey League. Playing in a professional league as a first time draft eligible is typically a very strong indicator of a future NHLer-- if you're good enough for pro minutes at 17, you're very much on track to be good enough for the NHL one day-- but a limited, often largely defensive role means it can be difficult to assess a player's ceiling or upside. Junior leagues like the OHL, where a top 17 year old should be getting top-six minutes, are a far better environment for this, but the lower level of competition makes it more difficult to assess a player's floor. So for Mysak, we have two samples: one where we can evaluate his floor, and one where we can evaluate his ceiling. That's a luxury we don't get for the vast majority of players.
I was higher on Mysak before he came over to North America. His success at the Czech level shows his high floor and I thought that his low usage and the high level of competition could be shrouding his upside. His move to the OHL gave him an opportunity to demonstrate that potential, but honestly, I thought he underwhelmed a little. He was impactful in a big role for Hamilton, stepping into the injured Jan Jenik's role as Arthur Kaliyev's centre, but he didn't tear up the league like I thought he might. I see top-six potential, yes, but he didn't stand out as a big driving force for Hamilton and he seems like more of a complementary option.
21. Zion Nybeck, LW/RW, HV71 (SuperElit)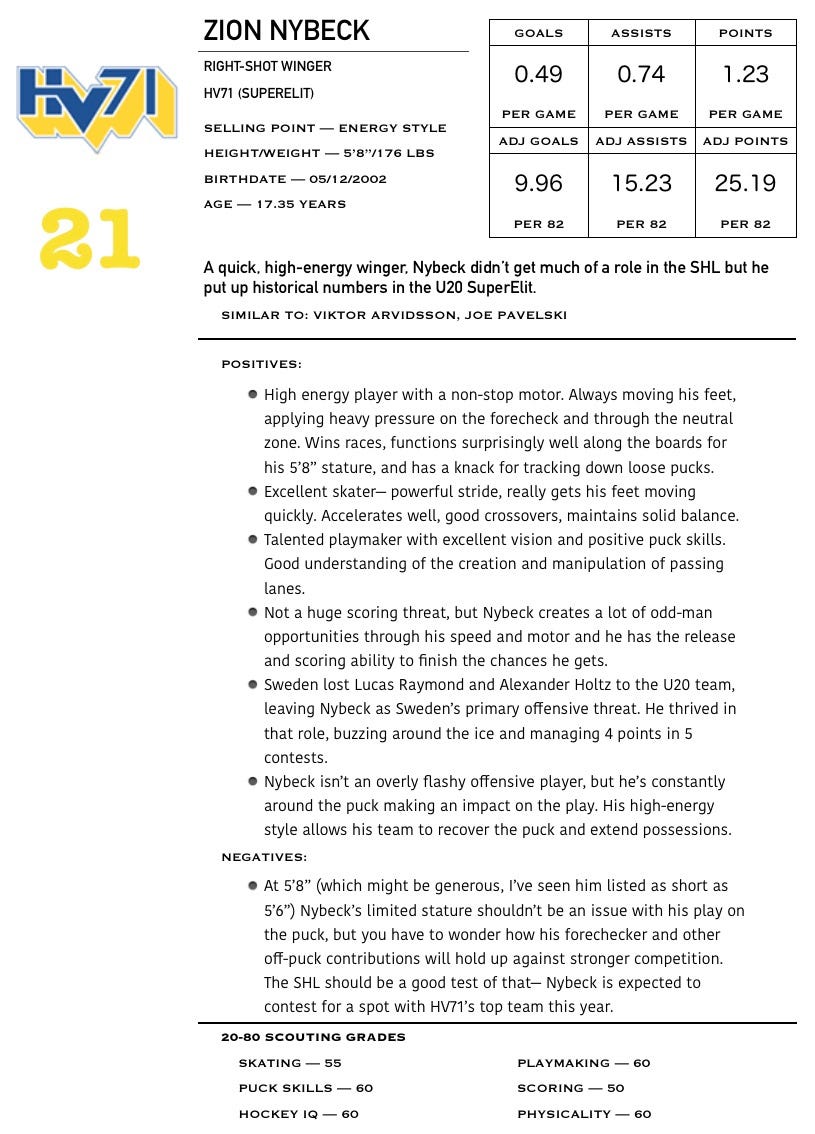 One Thing I Love: Zion is a big-time scoring threat coming down the wing, combining quick feet with a big shot. He potted 27 goals in 42 SuperElit games.
Projection: 50-70 point winger with a valuable high-energy, puck-hounding style.
Methodology: I love my undersized guys that rip up their junior league, and Nybeck is no exception. His height measurement varies by source: EliteProspects has him listed at 5'8" but NHL Central Scouting pinned him 5'6" and a half when they released their final rankings, which I believe puts him right around Johnny Gaudreau's height class. He's stockier than Gaudreau is though, weighing in at 182 pounds compared to Gaudreau's 165. Nybeck didn't quite get the SHL exposure than Raymond, Holtz, and Gunler did this year. He was solid in the 15 professional games he did play, recording one point and controlling 52.34% of the shot share in less than 5 minutes of ice per game. He got plenty of ice time in the U20 SuperElit however and absolutely shined at that level. He led the league with 66 points in 42 games, dominating with a goal share of nearly 65% while on the ice. A hardworking forward that always seems to be playing at 100% pace, Nybeck is a quick skater with great vision and real danger as a scorer coming down the wing. He has one of the wider ranges of potential outcomes in this draft-- I think there's 70 point upside if he really hits the ceiling that he's capable of, but it's more likely that we get a 50-60 point winger with a really nice high-energy style. Even if he's towards the lower end of my projection, his offensive toolkit and high pace style should make a player that everybody would love to have on their team. I see him as a Viktor Arvidsson type-- a high-energy, undersized,  creative attacker, but more of a playmaker.
I really struggle to evaluate Nybeck. In terms of actual skill, he's probably a top-fifteen talent in this draft. By pure upside, he's probably a top-fifteen talent in this draft. If every player got equal developmental opportunity, he's probably a top-fifteen talent in this draft. Unfortunately, there's more to it than that. My rankings aren't about pure skill, pure upside, or what could be, but rather weighing a variety of factor to determine which players will be most valuable to their NHL teams. Nybeck could be super valuable if everything goes well-- I'm sure every NHL team would like an Arvidsson-type on their roster-- but I'm not sure about the likeliness of everything going well. He's 5'6, he's European, and he isn't the greatest skater. None of these should stop him from being a valuable NHLer, but plenty of coaches don't think the same. We've already seen him held to only 15 SHL games this season despite being one of the best players in the SuperElit and pretty clearly ready for a full-time SHL role. Will he get the minutes he deserves next season, or will he be held back again and have his development stunted? When he comes over to the AHL, will he be used in a skill role or will he be forced to earn his due in a bottom-six role as a defence-first player beforehand like several European players (a notable example, albeit at the NHL level rather than the AHL, is Jesse Puljujarvi with the Oilers). In the right developmental system, he could be a steal. Unfortunately, most organizations don't have strong developmental systems, and that could be an issue. He's a fun upside bet if a team is confident in their development system and has coaches willing to nuture him in the right role, but a conservative organization with old-school coaches could ruin him quite easily.
Tier Five-- The players in this tier have realistic outlooks as mid-level talents. It has a variety of player types: some have high ceilings with higher risk levels, some are lower-ceiling but super reliable. It encompasses the remainder of the first round.
22. Connor Zary, LHC, Kamloops (WHL)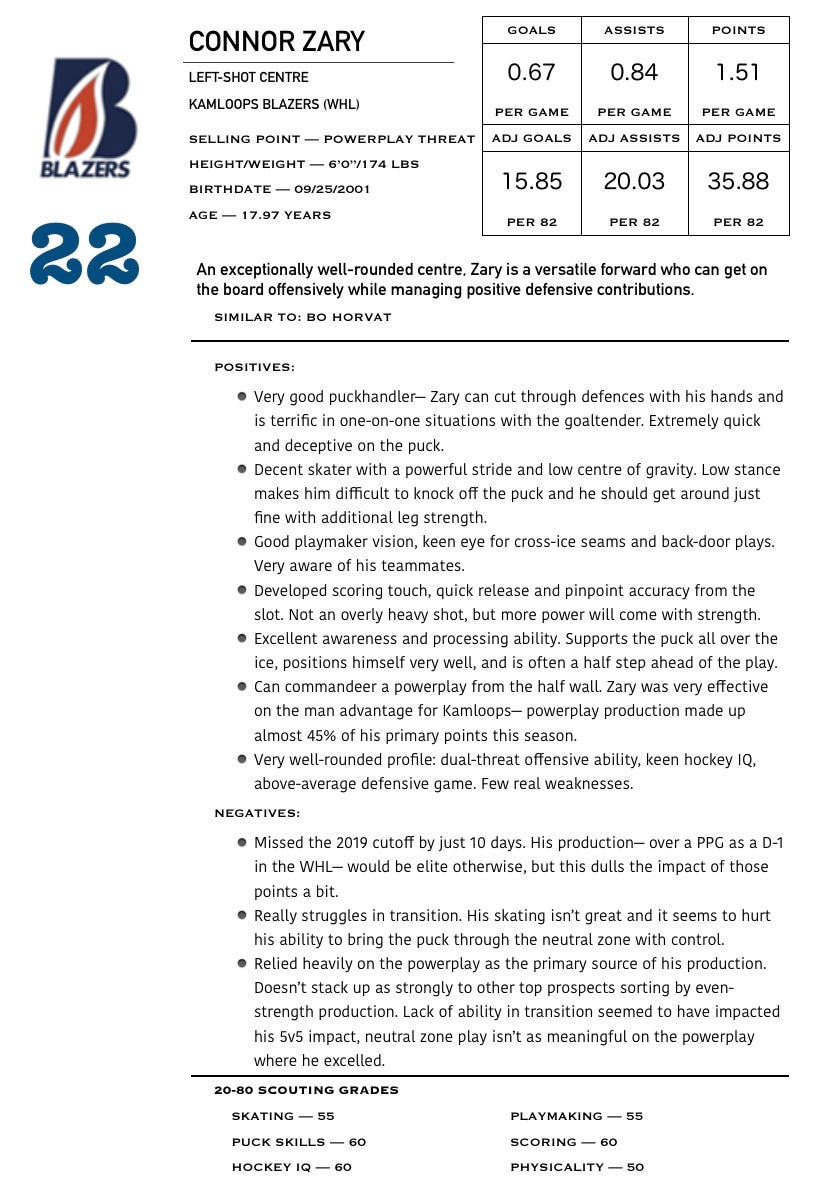 One Thing I Love: Zary has a super well-rounded game and can create offence in a multitude of fashions. He lacks a real elite-level attribute but makes up for it by being above-average in just about every area (as you can see from the skill grades above). He's always in attack mode and there are some many ways he can do it: he's the type of player that can threaten with speed down the wing, attack the slot and pick the corners with his shot, find open teammates right in front of the net, dangle his way right to the crease, or work around the perimeter and wait for the opposing team to make a mistake.
I think the baseline tool that enables all of this is just the innate understanding that Zary has for the positioning of everyone on the ice and how that status is going to play out and develop. He just has a really high mental capacity to process the game-- he can focus on several things at once, allowing him to make plays like receiving the puck and moving it immediately in smooth fashion; whereas a player without his sense would need to perform a play like that in a slower, more step-by-step fashion that sacrifices all element of surprise and ability to catch defenders in between positions. The two clips below are him using intelligence as a playmaker, but I think that sense and ability to process the game so well just enables a really high-tempo, high-impact game in all facets.
Projection: A middle-six centre whose primary source of impact will be on the powerplay.
Methodology: There's lots of like about Zary's game: he's very well-rounded, processes the game super well, and put up big numbers for Kamloops. I do have one concern about his game: he was quite reliant on the powerplay to constitute a large chunk of a production and was less impactful at even-strength than most of the top CHL forwards in the draft by points metrics. The centre had the sixth highest rate of points/game and seventh highest rate of primary points/game among CHL draft eligible forwards, but falls all the way to sixteenth in that group when we sort by primary points/game at even strength.
Zary's microstats over a ten-game sample tracked by The Athletic's Mitch Brown don't inspire a ton of confidence either. This is all five-on-five, so it shows some more insight into why he might not be quite as effective at even-strength. We can see that he's an excellent shooter that generates not only high-level quantity (he averaged 4.51 shots/game this year) but plenty of quality as well in addition to being an excellent defensive player (speaking to the all-around nature of his style). He doesn't look nearly as spectacular as a playmaker and really struggled in transition.
I suspect that these transitional woes are probably the root of the issue: you can't touch the scoresheet if you can't even bring the puck into offensive zone with success, so many of Zary's opportunities to be involved in scoring plays at even strength were likely squandered at the blueline before they even really began. This is an issue that could probably be mitigated fairly effectively by placing Zary on a line with a quicker, more transition-savvy forward to lead the way through the neutral zone. That linemate won't be able to absorb 100% of Zary's responsibilities in that area though and it limits the line's freedom and creativity for offence right off the zone entry. Without significant improvement in that area, which would probably require improved skating and more comfort as an east-west attacker as opposed to north-south routes, I question whether Zary will be able to drive play as a top-six centre at evens, which would be a big hit on his value as an NHL player. He has the tools to rack up points on the powerplay, but I can see a realistic scenario where he tops out as a third-line centre at 5v5.
23. Roni Hirvonen, LHC/LW, Assat (Liiga)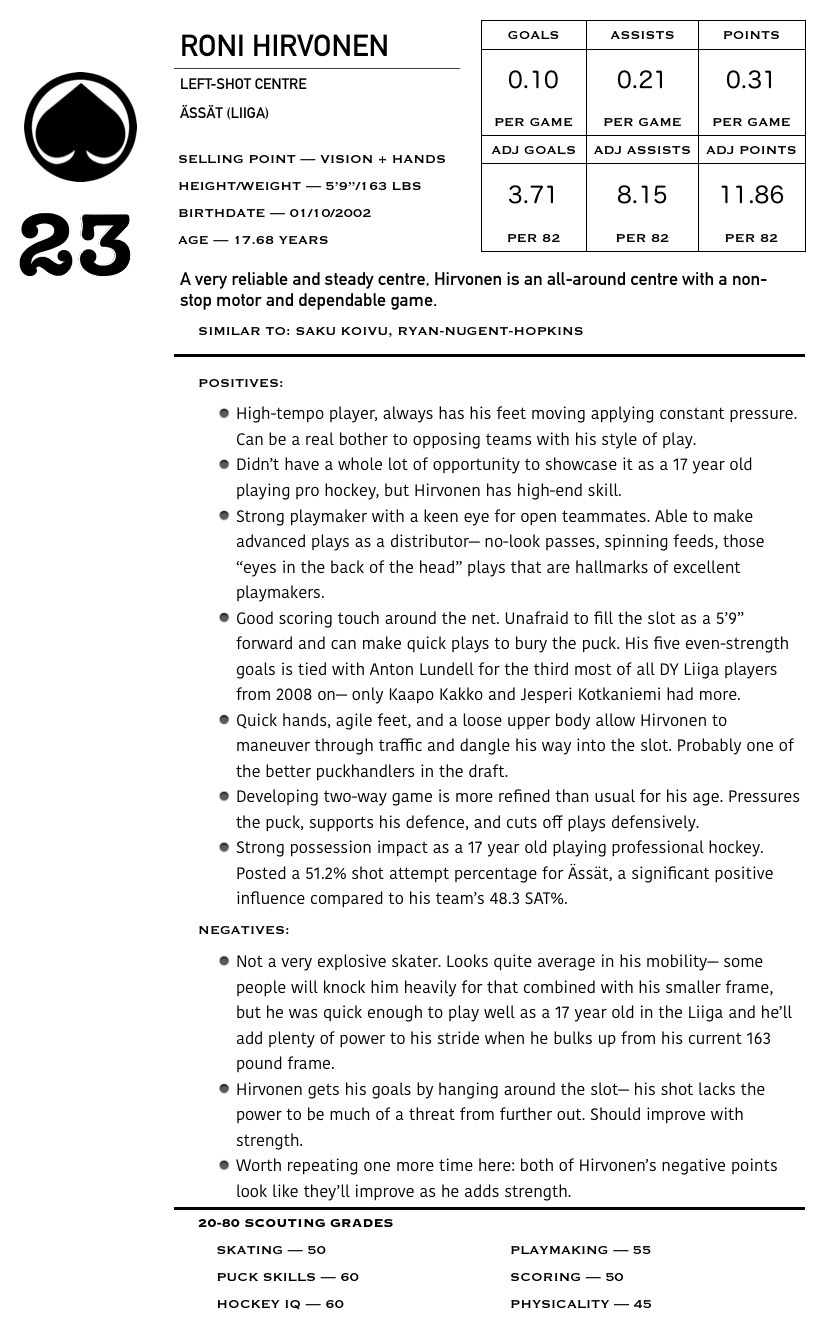 One Thing I Love: is how Hirvonen was quietly excellent as one of youngest players in the Liiga this year. He deserves a lot more credit for his season than he's received. Hirvonen stepped into a middle-six role for Assat at the beginning of the season as a 5'9", 163 pound 17 year old and stuck, playing all 52 games and tallying 16 points. I think he should be regarded as a similar level of prospect to Rasmus Kupari coming out of his draft year-- Kupari was more efficient putting points on the board (but not by a whole lot), but Hirvonen was much more at home in the Liiga as a driver of play. Hirvonen controlled 51.2% of the shot share, a boost of 2.9 percent relative to his team, whereas Kupari posted a 46.3% shot attempt percentage back in 2017-18, -6.7% worse than his team.
Projection: An intelligent, steady middle-six forward with 50 point upside. Very reliable and should be able to be counted on to consistently outplay his matchup.
Methodology: Hirvonen might not have the highest offensive ceiling, but he looks to be a super reliable all-around player whose impact will show more in the on-ice metrics than the box score. Any player that can be as steady as Hirvonen was in about 14 minutes per night for Assat as a Liiga rookie should generally be a pretty solid bet to become a capable NHLer. People will probably ding him for being slight, but a guy who can hang around in the Liiga at 163 pounds pretty clearly has the skillset and ability to handle himself against larger players required to be an NHL player after a few years to develop and add strength. There's not a lot of opportunity to display offensive upside as an 18 year old in the Liiga, but Hirvonen showed that he can perform in a top offensive role with 55 points in 50 games in Finland's top junior circuit last season, as well as in flashes at international events like the Hlinka-Gretzky Cup (5 points in 3 games). I think there's a potentially really valuable player here-- a 50 point 2C with a responsible all-around game seems like the best scenario-- that's worth betting on with a top 25 pick. Of the guys behind him in this range, I think he'll be the most impactful at evens. Worth nothing: Hirvonen is a natural centre, but he played the wing for Assat and could stick on the flank moving forwards.
Hirvonen is an impact pick, not a flashy one. He'll probably go in the second round-- Hirvonen slots in 33rd on Colin Cudmore's consolidated list-- but he has an opportunity to become a really valuable NHL player. If he can step into the Liiga at 17 and lock down a middle-six role while outplaying his competition, I think there's plenty reason to believe that he'll be able to do the same thing in the NHL after a few years of development. It's not always about flair or offensive upside-- there's value in players like Hirvonen that could potentially stabilize a team's entire middle-six with reliable, all-around play.
24. Marat Khusnutdinov, LHC, SKA St. Petersburg (MHL)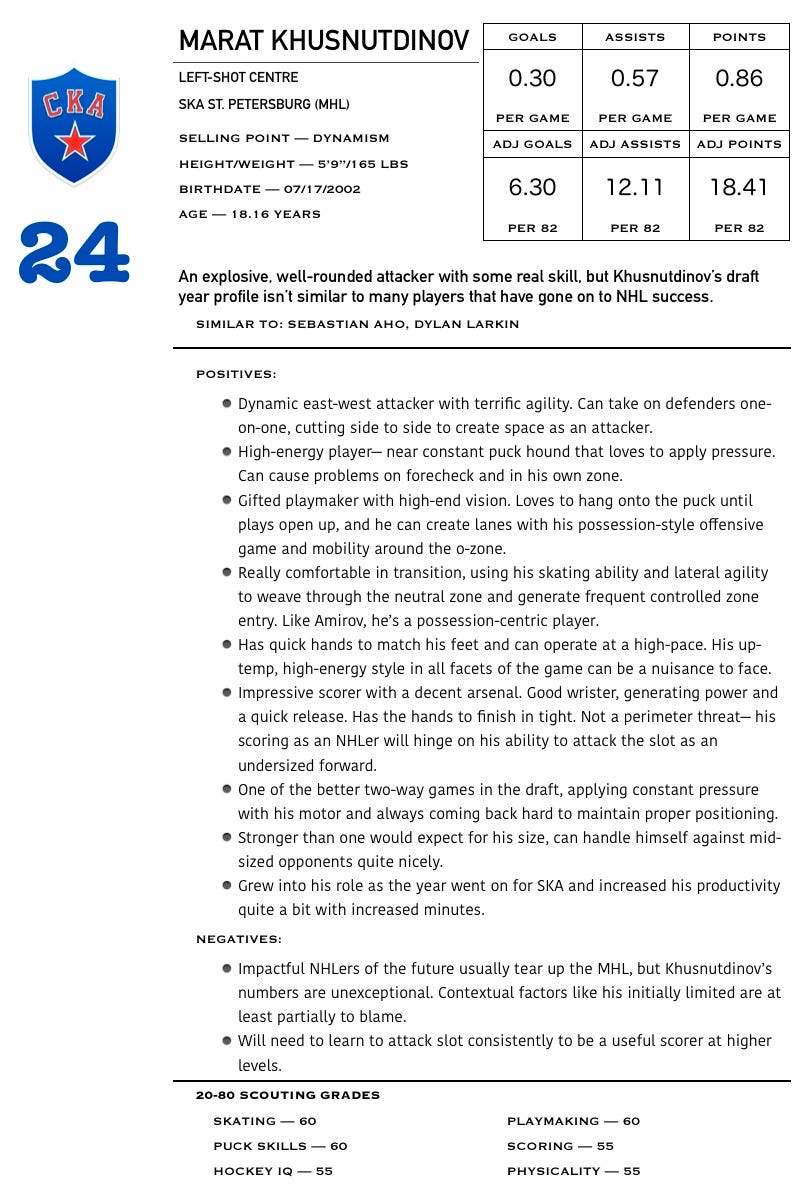 One Thing I Love: Marat is an explosive, shifty attacker with a very high-paced style. He's a really dangerous rush threat, taking on defenders with speed and lateral agility.
Another Thing I Love: Khusnutdinov has a high motor and a refined all-around game. He's a surprisingly adept two-way player for his 5'9" frame, playing a responsible defensive game and doing well to take away offensive opportunities.
He fights hard in puck battles and can be a real disruptive puck hound too.
Projection: Wide range of potential outcomes here. There's a chance he becomes a top-six forward, but he's more likely to land in the middle-six with his responsible, well-rounded game.
Methodology: Marat has high-level offensive skill, no doubt about that. The MHL isn't much of a factory for top forwards-- Nikita Kucherov and Artemi Panarin are the only real notable ones-- and both of them tore up the league in the draft years. Pavel Buchnevich is the only player that has ridden an unexceptional draft season (0.96 points/game) to a solid NHL career to date. Marat would fit into the later category if he goes on to good things. His 38 points in 44 games weren't great, but he's a summer birthdate that started off in a bottom-six role for a stacked SKA team and only gradually earned more opportunity throughout the year.
This is where risk-management comes in. I love his skillset and I do believe there's a scenario where Marat becomes a top-twenty or top-fifteen player in his draft. But at the same time, there's little precedent for players with Khusnutdinov's draft year resume going on to NHL success. By drafting the Russian, a team will be hoping that he turns out like Buchnevich, who's coming off a 55 point pace season for the Rangers, rather than a German Rubstov or the long list of Russian players that never even made it to North America after relative levels of DY success in the MHL. It's about finding a balance between his high skill level and the level of risk that he carries. I think this is a good spot-- he's more dynamic and a little more skilled than someone like Roni Hirvonen for example-- but he isn't as strong of a bet to turn into a capable NHL player.
25. William Villeneuve, RHD, Saint John (QMJHL)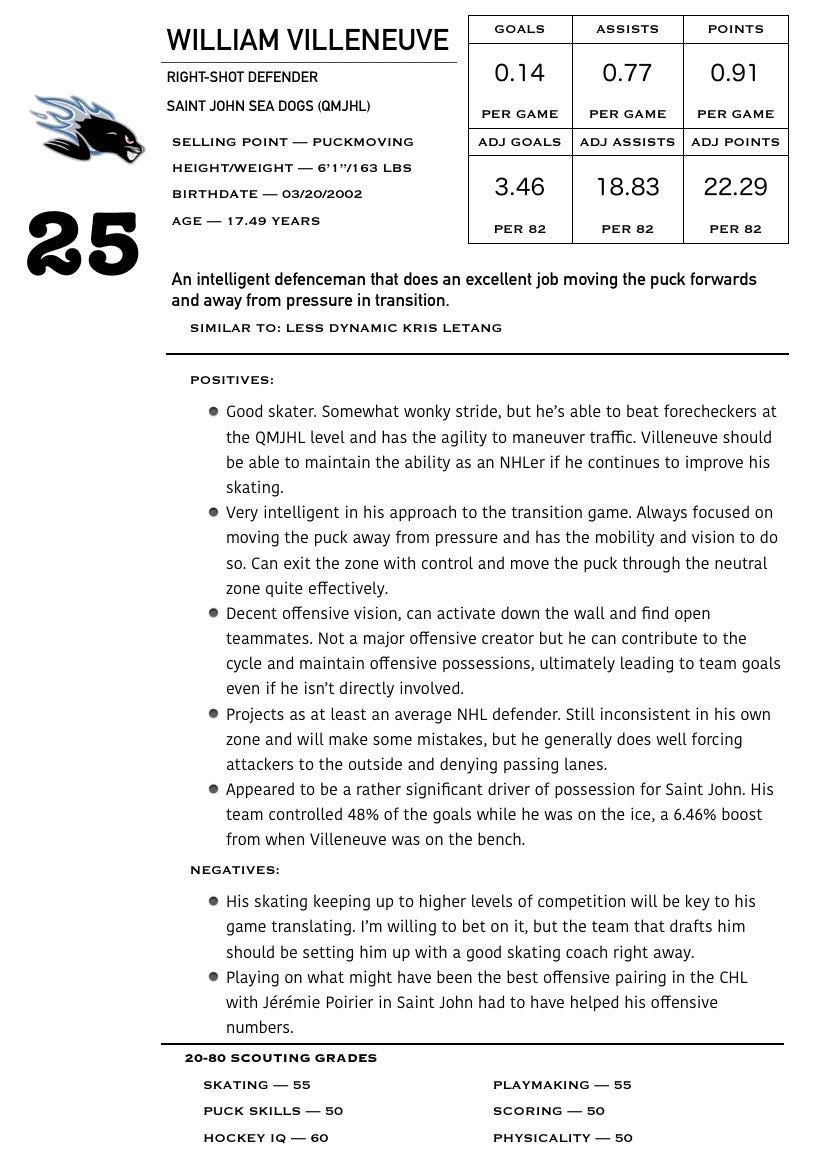 One Thing I Love: Villeneuve's mobile game and intelligent ability to find space on the breakout makes him one of my favourite prospects in the draft. He's quick enough to navigate forechecking pressure and create enough separation for himself to make clean outlets and he does an excellent job recognizing when an area of the ice is dense with pressure and finding an alternative route to move the puck. One of the most important traits for a defenceman to be successful is the ability to stay composed and handle forechecking pressure without throwing the puck away or moving it into further pressure, and Villeneuve is one of the best defencemen in the draft in that area.
Projection: A very steady top-four defenceman with a capable two-way game. Not a major offensive impact (I would estimate about 20 points a year), but he should be valuable in transition.
Methodology: For a former second overall pick in the QMJHL draft who was nominated for the award given to the best defenceman in the Quebec circuit this year, it's stunning to me how little attention Villeneuve has gotten in draft circles. Is he dynamic? No. Is he going to wow you with his individual skills? Probably not. But Villeneuve is a super intelligent defenceman with an all-around game that looks like he can drive an NHL pairing through transition, and I see a lot of value in that.
"Problem-solver" is a word that seems to be creeping into the hockey lexicon-- typically to describe forwards in the offensive zone, but I think it summarizes what some of hockey's best defencemen can do in transition. Villeneuve processes the game extremely well and displays an excellent sense for pressure, allowing him to move the puck away from forecheckers and towards open ice. He isn't the greatest skater-- although I would classify his stride as more unattractive than ineffective (it can be wonky, but he gets around more than fine)-- but he's quick enough to create space from most opposing players and make the time for himself to find a play. I think Villeneuve can be a true top-four option for an NHL team, a real steady player that can move the puck and drive play through transition, even if he isn't the prettiest or dynamic skater. And with some time spent with a skating coach, Villeneuve could develop an even quicker-paced game. At the very least I think it's realistic to expect that Villeneuve could stay a half-step above plenty of NHL forecheckers like he currently is at the QMJHL level with additional leg strength, and the intelligence and sense for open space will translate to the NHL with little doubt.
Villeneuve is my guy. I know some people barely even see him as draftable because of his quieter game and awkward skating stride, especially when seen in comparison to linemate Jérémie Poirier. His steady, all-around style prioritizes important elements like controlled entries and maintaining possession of the puck, making him a high-impact player that could potentially make him a valuable top-four NHLer. He has flaws, absolutely, but I don't see his skating is a long-term issue and a lack of dynamisn shouldn't hurt his NHL chances.
26. Braden Schneider, LHD, Brandon (WHL)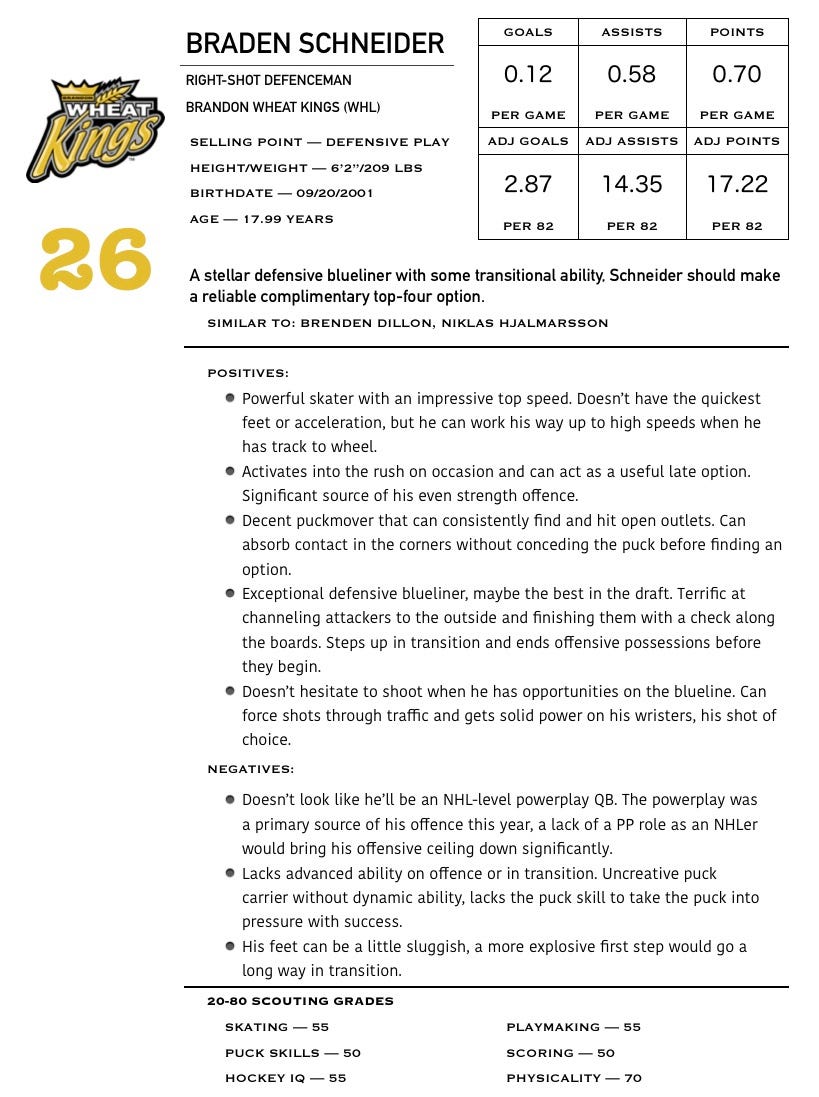 One Thing I Love: Schneider plays highly aggressive neutral zone defence and is consistently successful in denying entry to his zone. There's tons of value in ending the opposition's offensive possessions before they even begin.
Projection: A complementary piece that can play in a team's top four. Won't drive much offfence, but his defence-first style and basic transitional ability could compliment a more offensive linemate extremely well.
Methodology: Schneider isn't the type of defenceman that I typically go for, but I can't deny that there's value in his profile. "Two-way defenceman" is a term often improperly used to classify defensive specialists with limited offensive acument; players just as one-way as the offence-first guys, just on the other end of the ice. Schneider is largely one-way-- the vast majority of his impact originates from his ability to protect his blueline and limit the opposition to low-danger offensive opportunities. Schneider is a low-event player-- when he's on the ice, his team concedes few opportunities-- a sign of his overwhelming defensive impact-- but they don't create much offence either.
Schneider doesn't drive offence; he limits it, and that holds true on both ends of the ice. Can that player be a major piece on a team in today's NHL? Not effectively, I don't think. But as a complementary piece that can log big minutes alongside a playdriving partner, Schneider has a legitimate NHL future. He's a defensive black hole-- when the opposition attacks his wing, they rarely come out with the puck. Schneider is a good enough puckmover to adequately manage a secondary role in transition-- he can struggle to handle pressure at times and would suffer as the primary focus of the opposition forecheck, but he's very capable of pulling off basic outlets and even the occasional stretch pass.
27. Martin Chromiak, LW, Kingston (OHL)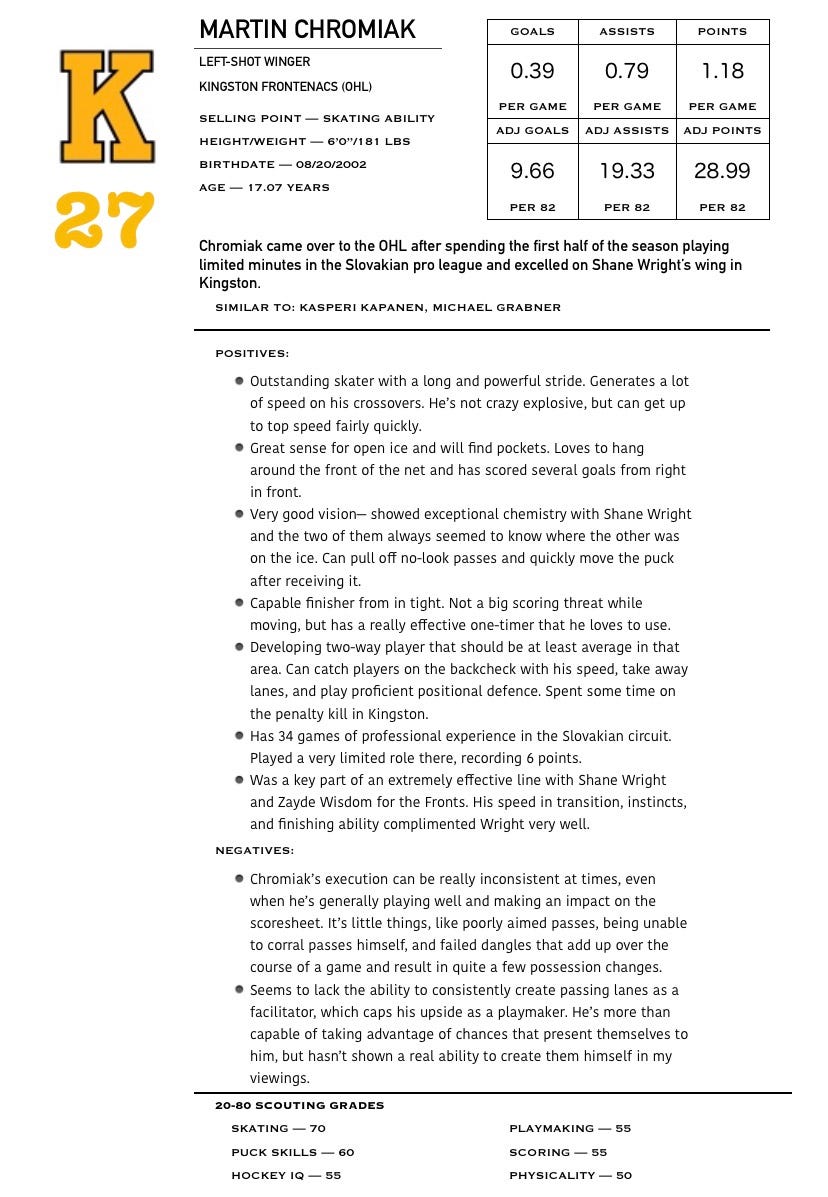 One Thing I Love: Chromiak is crazy fast. He doesn't always find himself in situations where he gets to use it to its full extent super consistently, but he can really wheel.
Another Thing I Love: Chromiak is an impressive playmaker. He isn't going to be a crazy generator of assists, but he's a guy that can fit into a line and work off of his teammates. He demonstrated excellent passing chemistry with linemate Shane Wright this year.
Projection: A complementary winger that could play anywhere in a top nine. Has a promising skillset to be a secondary contributor on a top line: quick enough to help with the load in transition, the passing skills to work off his teammates, and the offensive instincts and shooting to finish consistently.
Development: Chromiak should have two major focuses for his development-- getting as many reps as possible to get his execution up to a more consistent level and continuing to adapt to the smaller North American ice surface so he learns how to get himself into more situations to use his high-level speed.
Methodology: I went back and watched a lot of Kingston after hockey was paused and some of what I saw from Chromiak blew me away. He fit Kingston's structure right from the get go, joining a line with phenom Shane Wright and fellow 2020 eligible Zayde Wisdom. The instant chemistry with Shane Wright was exceptional and demonstrated how perfect of a complementary player Chromiak could be-- he's the type of player that I can see playing alongside an NHL star someday. I'm an Oilers fan, so let's use Connor McDavid as an example-- Chromiak has the quickness to keep up; the finishing touch to bury the chances that McDavid would create for him in bunches; and the vision to get McDavid the puck on a consistent basis (something that Milan Lucic, who very notably failed on McDavid's wing, could not do in the slightest). And as his success with 39 goal scorer Shane Wright showed, he's more than capable of complimenting a more scoring oriented linemate as well.
Chromiak is similar to Jan Mysak: he played the first half of the season in Europe before coming over to play junior hockey for 2020. He didn't play much in the Slovakian professional circuit, but the pro experience is a promising arrow for a higher than usual NHL floor. His OHL resume is short, but very strong. He was an excellent even-strength producer and boosted Kingston's goals-for percentage by more than 17% when he was on the ice. Of course, playing alongside Shane Wright helped that for sure, but it's important to remember that Wright is still a 1.14 point per game 16 year old and not the absolutely dominant force that he'll be in a year or two. My concerns with Chromiak are quite limited-- a lack of lane creation ability as a playmaker and a general lack of execution. Neither of those should stop Chromiak from meeting my projection: I'm not expecting him to be any kind of elite playmaker, and the momentary slip-ups related to that lack of execution should work themselves out with experience.
28. Sam Colangelo, RW, Chicago (USHL)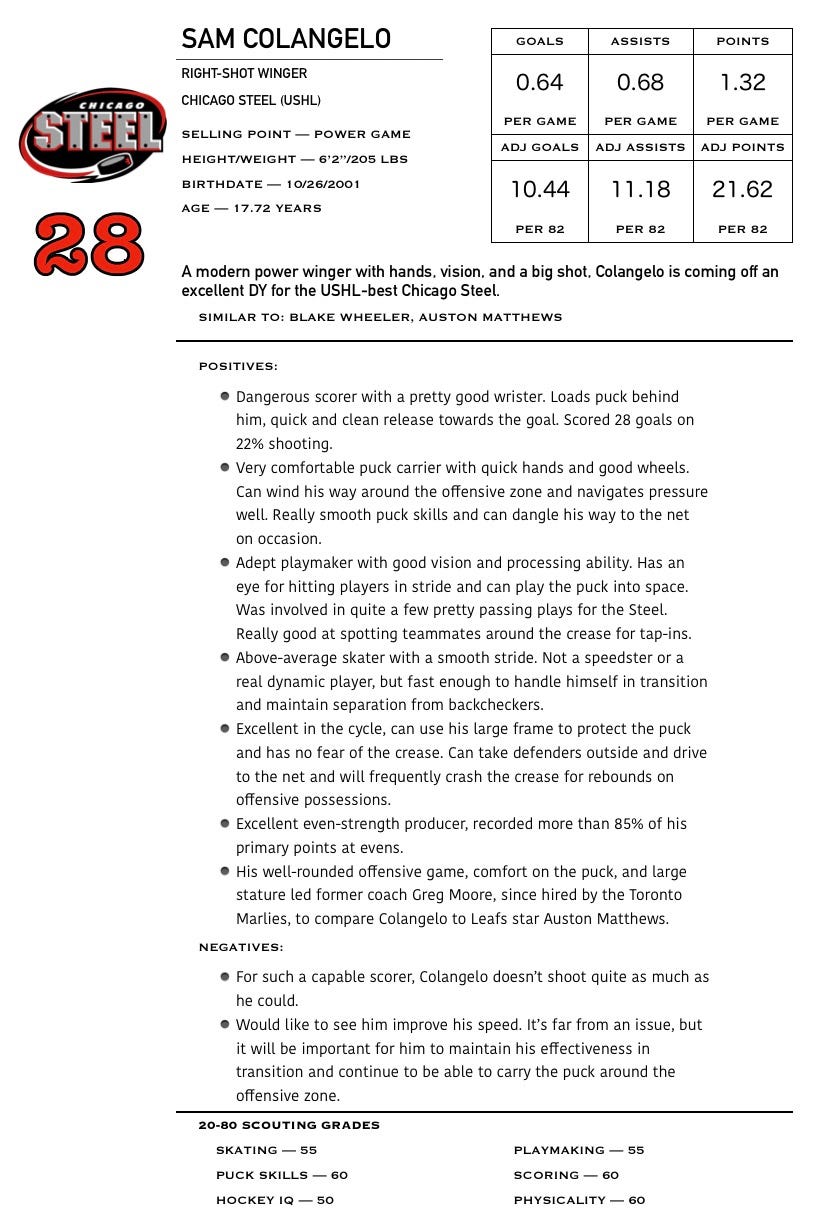 One Thing I Love: Colangelo is a talented playmaker with great vision and that isn't even the focal point of his game.
Another Thing I Love: Colangelo has a real nice set of hands and can make navigating traffic look easy.
Projection: Kind of like Marat Khusnutdinov, Colangelo has a wide range of outcomes. He's a highly skilled player that played in an uncertain environment (Chicago was stacked this year). I can see him becoming a top-six NHLer, but a career as a middle-sixer is possible too depending on how well he can adapt to NHL pace.
Methodology: Colangelo has a great resume: he's a power forward that excels in the cycle, a strong playmaker with good vision, and a scorer with a big shot and quick hands. His all-around offensive game and high-level skill could very well propel him to a terrific NHL career. Brendan Brisson and Sean Farrell are frequently seen as the best draft eligible players on what was an absolutely loaded Chicago Steel team, but Colangelo might have been the real driver. He comfortably led the Steel in even strength production by a margin of 0.3 primary points per game and posted a team-high 70% goals-for percentage.
He has one of the best rates of even-strength production in recent USHL history. Jack Roslovic had a nearly identical statistical profile to Colangelo, and I'm more comfortable comparing a basic USHL team to Roslovic's USNTDP when it's one as strong as the Steel. Roslovic, of course, hasn't worked out super well to date, but he earned a late first draft selection and went on to put up solid seasons in the NCAA and AHL the two years afterwards. We saw Bobby Brink come off an exceptional USHL season and then manage 24 points in 28 games as an NCAA freshman. Colangelo's 0.95 even strength primary points per game comfortably edge out Brink's 0.81 last season, but there are two things to be mindful of. First of all, Colangelo actually shares a birthyear with Brink as a late 2001 birthdate so he's on the older side of the class rather than the younger like Brink was. Second, Chicago was a much better offensive team than Brink's Sioux City was-- Colangelo's EV primary points made up of 22.5% of the Steel's team goals at even strength, compared to Brink's unbelievable 38.9% on one of the USHL's worst teams. I had Brink ranked 11th last year, so #28 on this list reflects that difference.
Colangelo is the type of player that can play up and down a lineup. He has the power game, motor, and grit to be utilized in a bottom of the lineup role if needed, but also the shot, vision, and skating for a more skillful responsibility. I can see him as a top-six NHLer at some point, but with his skating and a lack of a real high-pace game, he's probably more likely to top out as a middle-sixer. He's off to Northeastern next year, where he'll probably be a two year college player. He's seen as a mid-to-late second rounder by most, and I'm really not sure why. Is it because his 2 points in 6 games at the World Junior A Challenge pale in comparison to Brisson's 12 in 6 or Sean Farrell's 8 in 6? Maybe, but I think we know better than to go off of short international tournaments. He's an older birthdate on a stacked team, sure, but he's a player with a very strong all-around skillset and an impressive statistical profile-- one that beats out that of commonly higher ranked teammates like Brendan Brisson. Brisson is a spectacular powerplay threat that can catch the eye (his dynamite one-timer is especially attractive), sure, but Colangelo is his 5v5 counterpart that was a major leader for the Steel at even strength, even if his game isn't quite as eye-catching.
29. Jacob Perreault, RHC, Sarnia (OHL)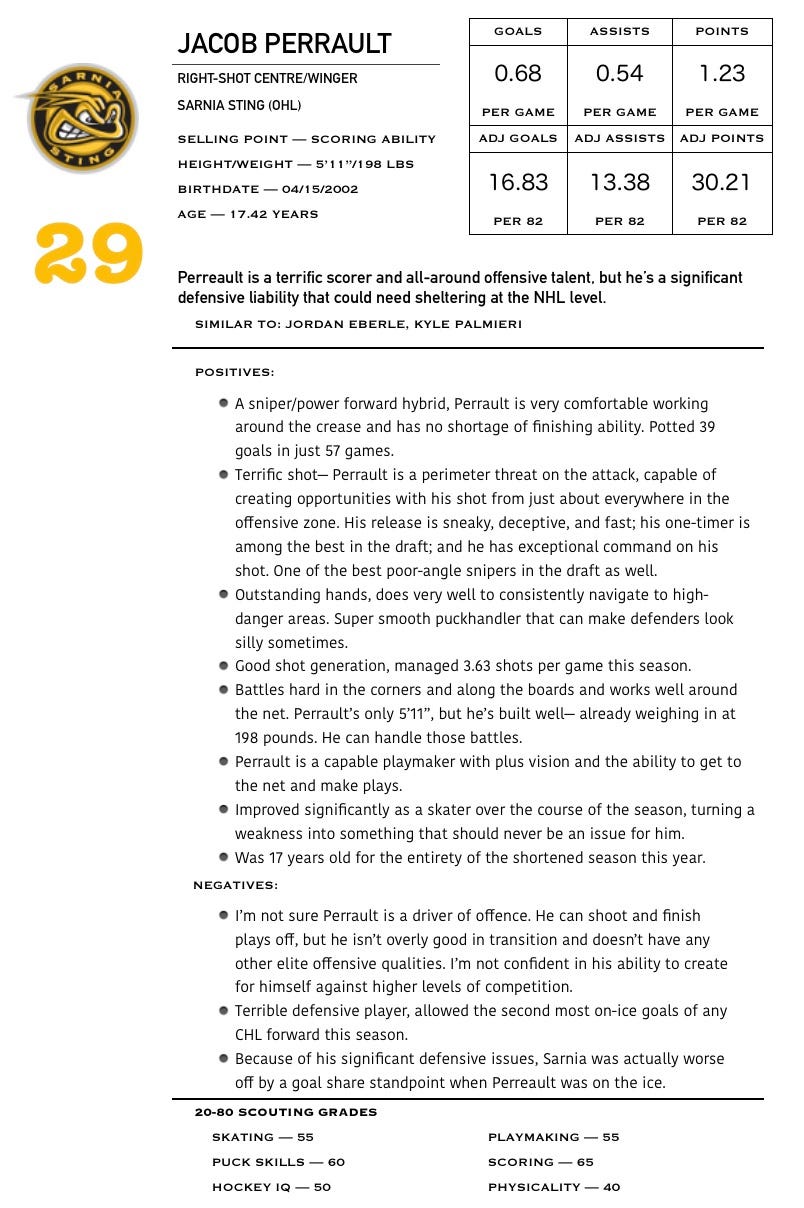 One Thing I Love: Perreault is an extremely gifted scorer, especially on the man advantage. He had the second highest rate of powerplay goals per game among CHL draft eligibles behind only Tyson Foerster, beating out the host of talented players higher up in this ranking. He has a huge one-timer from the left side:
And he's a creative puckhandler that can take on defenders one-v-one off the rush:
Another Thing I Love: Perreault can really dangle.
Projection: Perreault has the skill ceiling to be a top-six winger, but he's going to have to address some significant defensive issues if he's going to make a positive impact.
Methodology: Perreault has gained quite a bit of traction lately as people realize his offensive creativity and increasingly dynamic skillset. But at the same time, its seem as though his defensive shortcomings are going unnoticed. Let's run through his offensive game real quick. As we got a glimpse at, he's an ultra-talented scorer with a massive shot and creative hands.  He's also a spectacular poor-angle threat with a quick, deceptive release and pinpoint accuracy from positions near the goal line. He's also a highly gifted puckhandler that can dangle his way to high-danger areas with smoothness and ease. As well, he's a decent secondary playmaker that can display impressive vision, albeit not super consistently. His speed was an issue going into his draft year, but he's jumped forward in that area and will be mobile enough for NHL hockey. His 1.23 points/game for a mediocre Sarnia team is excellent for this point in the draft.
All of that offensive acumen, and yet Perreault was actually a significant drag on the Sting's goal share. He was massively outscored while on the ice, conceding 82 goals while only being on the ice for 52 on Sarnia's part. His team's goals-for percentage dropped more than 6% when Perreault was on the ice. That's because of his absolutely dismal defensive play-- the 82 goals that Perreault was on the ice for was the second highest total among all CHL forwards.
Some of those defensive woes should be calmed by moving Perreault to the wing, which seems like a natural step in his development. But when a player's defensive play is already negatively outweighing their offensive impact at just the CHL level, it doesn't exactly lend a whole lot of hope that they'll ever be able to play a driving role as an NHL player. In a more secondary role where a team can manage his deficiencies by sticking him on the wing and minimizing his responsibility in their system, I can see a real future. But as a centre, I don't see it at all. As a winger, it isn't easy to imagine a positive impact unless he's sheltered by his team. How much value is there in that profile? Definitely some. But will he be more valuable than the players ranked ahead of him? With major defensive strides, yes. But without, the attention and sheltering that he'll require from his team could hurt him.
30. Veeti Miettinen, RW, Kiekko-Espoo (Jr. A SM-Liiga)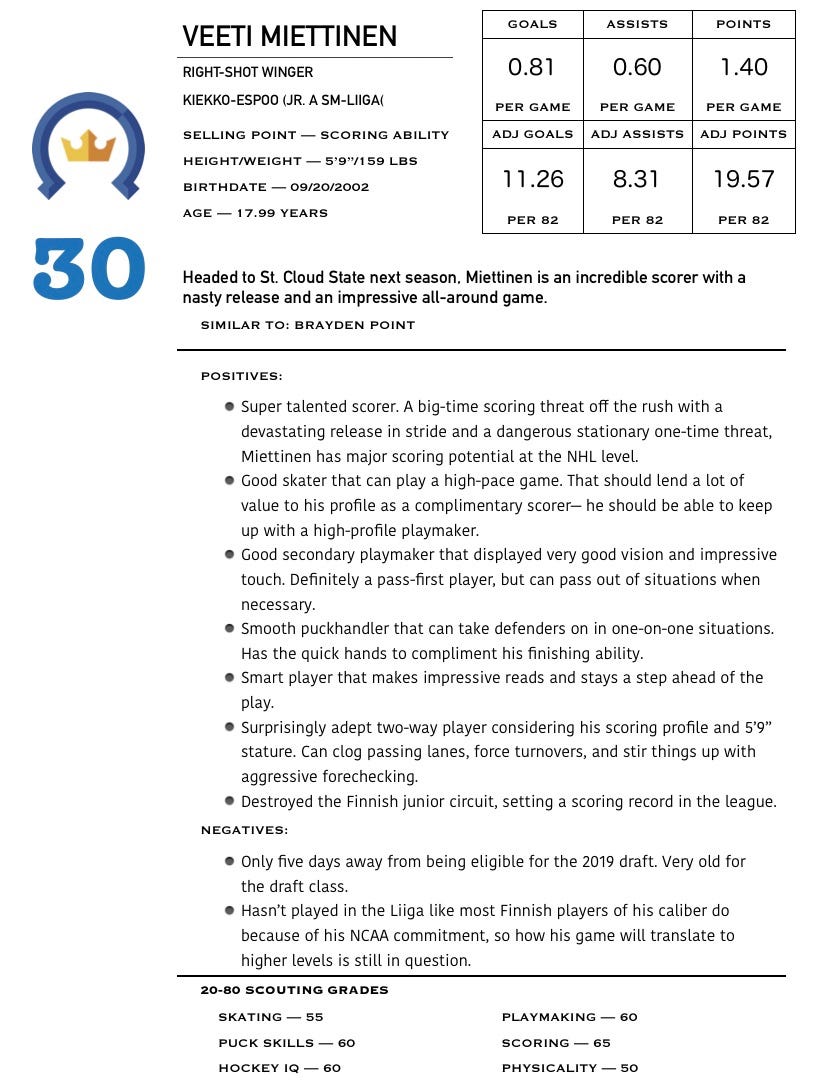 One Thing I Love: Miettinen can score from almost anywhere. He's a crazy talented scorer with a heavy shot and a nasty release.
Projection: How well his game will translate to higher levels of play is yet to be seen, but Miettinen has the shot and offensive tools to be a super dangerous top-six scoring winger in a complementary role.
Methodology: Miettinen is commited to St-Cloud State University for next season, so he hasn't gotten into a single professional game to date. Instead, he stayed in Finland's U20 circuit and absolutely destroyed the league. He set the Jr. A SM-Liiga scoring record with 42 goals, taking over games with incredible shot generation and finishing ability. He averaged 5.56 shots per game, a dominant rate, and scored his 42 goals on just 14.53% shooting (a very low rate for that kind of goal output). It's rare for top draft eligibles to remain in junior for their draft year so this doesn't mean as much as it would in the CHL, but Miettinen is proabably the best draft eligible player to play in that league since Teuvo Teravainen in 2011-12. I'm a big fan of his skillset. He's a very talented scorer with a scary release and looks like he could be a very effective scorer to play alongside a high-level playmaker. Miettinen plays a high-paced game, so he should be able to keep up with quick players and handle the speed of a top-six game. He's also an excellent secondary playmaker with good vision and touch and a strong two-way player that thinks the game extremely well. He makes good reads, stays ahead of the play, and consistently picks off passes and wreacks havage on the forecheck.
For all his positive qualities, there's a lot of uncertainty that goes along with Miettinen's game. Finland's junior league isn't exactly a high level of competition, and Miettinen's game is highly unproven so far. As well, he missed the cutoff for the 2019 draft class by only five days so he's very old for the class. Next season will be a massive test for Miettinen in the NCAA; he'll have to prove himself against better competition all while acclimating to the North American game. We see plenty of players struggle to successfully break into the NCAA even when coming from North American leagues; that jump will be especially hard for Miettinen coming from Finland. He's already old for the draft class, losing a year of development as he gets used to NCAA hockey could be tough.
31. Lukas Cormier, LHD, Charlottetown (QMJHL)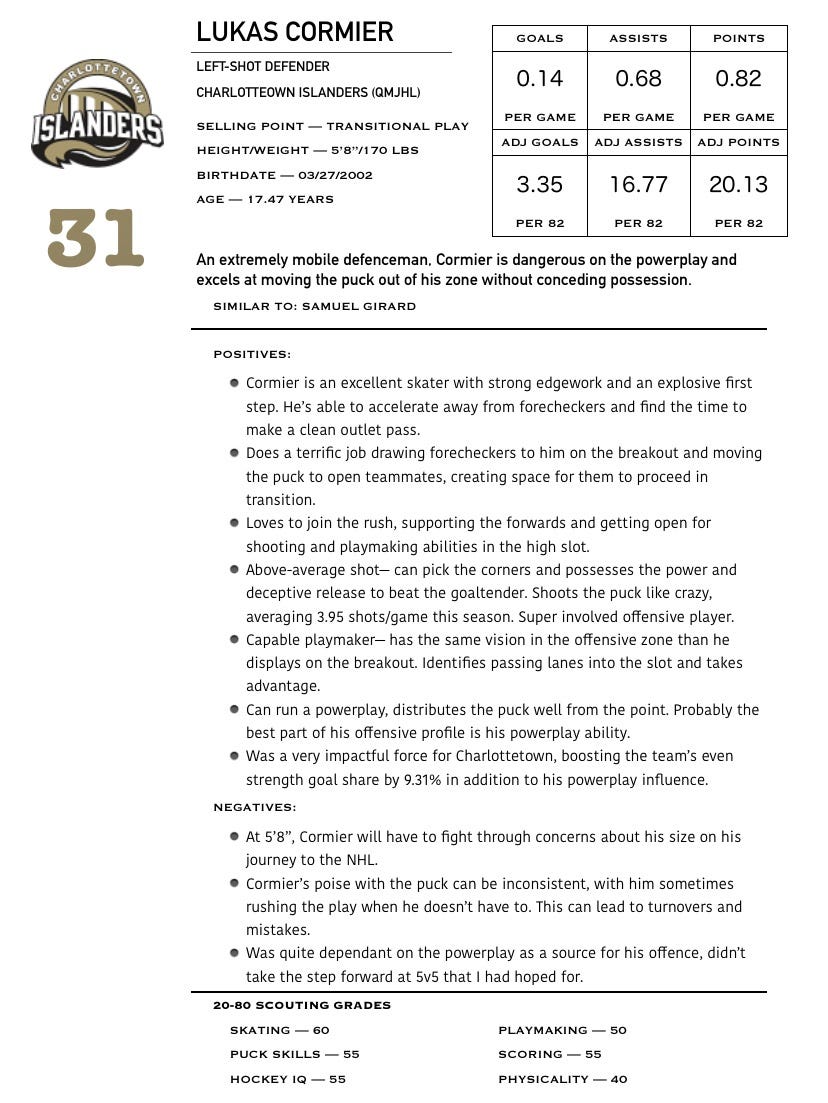 One Thing I Love: Cormier is an excellent powerplay quarterback that can maintain a high pace of movement and keep the puck moving around. Could be able to play on a top unit at some point.
Another Thing I Love: He always looks for opportunities to get involved offensively and activate into the play. He can lead rushes out of his own zone, join them as the late man, and activate off the point in the offensive zone.
Projection: If everything goes well, a second-pair defenceman that can command a powerplay. Without favourable development, he could be a third-pair guy that takes advantage of his sheltered minutes to really get involved offensively (as well as play some powerplay minutes).
Methodology: I was big on Cormier coming into the season. His ability to navigate forecheckers and exit his zone, in addition to above-average offensive skills, had me as a believer. He started off strong with unbelievable shot generation at the beginning of this season, but an injury in the first half seemed to set him back a little bit. However, Cormier's even-strength offence really began to stagnate, a concerning trend. His powerplay production increased from 0.14 primary points per game to 0.25, but Cormier's 5v5 offence actually decreased from 0.25 to 0.23. I thought Cormier might have been able to challenge the point per game mark this year, so that trend is highly disappointing. His +9.31 goals-for percentage relative to his team is a positive offensive arrow, but that figure stagnated as well-- Cormier posted a +9.71 relative goals-for percentage last season.
I'm still a fan of Cormier's skillset, but his 5v5 stagnation is super concerning. Whereas I was quite confident that Cormier could play a top-four role one day as an NHLer going into the season, it's beginning to look more and more likely that he tops out as a bottom-pair defenceman with powerplay utility. Was this just an unfortunate season and slight stepback in Cormier's progression, or is it a sign of an early peak and low NHL ceiling? It's really tough to say. I still think Cormier has what it takes for a top-four role. If he does top out as a bottom-pair defenceman, he still should have some value-- the sheltered minutes on the bottom pair should be a great environment for him to involve himself offensively and I think he's quite likely to receive a powerplay role even if he never reaches his even-strength ceiling.